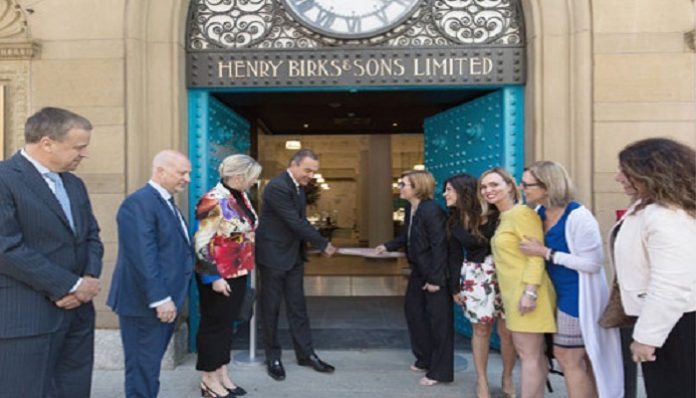 The Birks Group, a leading jewellery retailer of Canada, reported a net income of $4.9 million for the fiscal year ended March 31, 2018 (FY 2018), largely on account of a net income from discontinued operations (sale of its subsidiary Mayors) of $12.0 million that offset the net loss from continuing operations of $7.1 million.
Noting that the results reflected the "relatively softer retail conditions during the holiday period", Birks stated that they were also impacted by the temporary interruptions to business at the Company's flagship stores in Montreal and Toronto on account of planned renovation.
Net sales from continuing operations for fiscal 2018 decreased by $2.0 million to $114.4 million, compared to $116.4 million in fiscal 2017, reflective of a 4% decline in comparable store sales on a constant exchange rate basis, Birks said.
However, excluding the impact of lower sales in its two flagship stores, comparable store sales increased by 1% driven by increased sales of Birks-branded products, the successful execution of targeted marketing campaigns and growth in wholesale and e-commerce sales, the Company explained.
Gross profit from continuing operations was $43.6 million, or 38.1% of net sales, during fiscal 2018, compared to $46.8 million, or 40.2% of net sales, during fiscal 2017 with the decrease in gross margin rate being primarily attributable to increased sales promotions as a result of the Montreal and Toronto flagship locations undergoing major renovations.
Jean-Christophe Bédos, President and Chief Executive Officer of Birks Group, commented: "Our fiscal 2018 results are reflective of the major transformative changes undertaken by the Company during the fiscal year, most notably the sale of Mayors, which enabled us to substantially reduce our debt and strengthen our balance sheet."
He said that these changes, along with the on-going implementation of a new ERP system, had helped to better position the Company for long-term growth. The Montreal flagship store re-opened on June 11, 2018 and currently features some of the most reputable watch and jewellery brands in the world, alongside Birks jewellery and bridal collections, setting a high standard for luxury shopping in North America, he noted.
Looking ahead, Bédos said that the Company was now focused on the execution of its 5-year strategic plan, which largely focuses on:
offering a complete omni-channel experience;
enhancing retail store offerings through the renovations of three flagship locations;
expanding e-commerce and wholesale channels through pointed strategic investments;
renewing bridal and fine jewellery product offerings accentuating quality, design and accessible price points and;
most importantly, developing the Birks product to position it as an international brand.
He added, "We believe the execution of our strategic initiatives has put the Company on a clear path to long-term growth and value creation."
The Birks jewellery collections were launched in the U.K in September 2017 via an exclusive distribution agreement with Mappin & Webb and Goldsmiths jewellers. The Company intends to increase its international presence over the next five years.
Pic caption: At the recent opening of the newly-renovated Birks store at Montreal
News Source:- gjepc.org