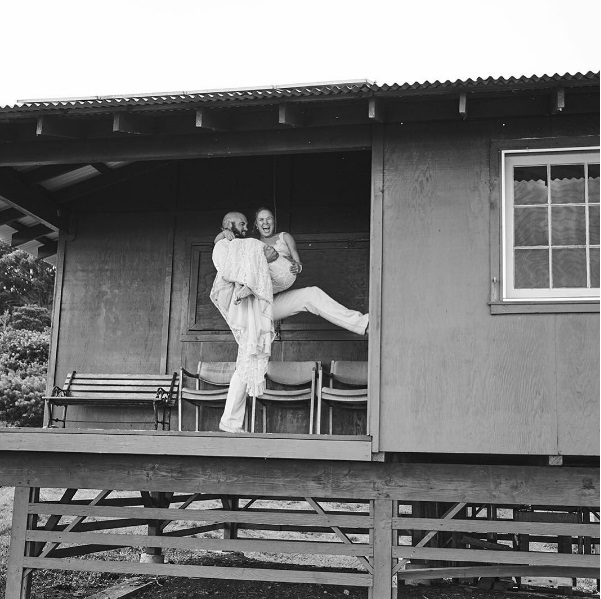 If we weren't able to make and ship the wedding ring in time, they were going to have a couple of wedding crashers in Hawaii," jokes Natalie Piccola, half of the Boise, Idaho, jewelry retail team known as the Diamond Girls, when recalling the rush to make and ship MMA superstar Ronda Rousey's wedding ring.
Piccola, with partner Lisa Zimowsky, designed and created Rousey's engagement and wedding band, in collaboration with her now-husband, fellow MMA star Travis Browne. The couple tied the knot Aug. 26 in Hawaii.
The rose gold band arrived—shipped overnight—the day before.

The Diamond Girls co-owners Lisa Zimowsky and Natalie Piccola (courtesy of the Diamond Girls)
We were so relieved," says Piccola, explaining that Browne made a key decision on the ring on the late side, prompting the mad dash to finish the ring. "But I told Lisa, I may be putting you on a plane—we were going to get it to them, no matter what. We just cranked it out."
Browne started the relationship with the GIA-trained jewelers through a recommendation, and the MMA star flew to Boise to consult with them on Rousey's engagement ring—a rose gold diamond style with a cushion-cut 3 ct. diamond surrounded by smaller diamonds.
Piccola says he was grateful for the hustle—and the gorgeous rings. "He's really loving us now!" enthuses the jeweler. "He thinks we're just awesome."
(Top: Ronda Rousey and Travis Browne on their wedding day in Hawaii; image: @rondarousey)
News Source: idahostatesman