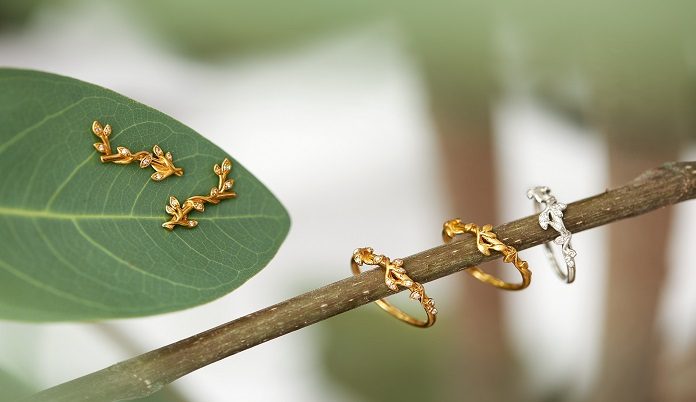 The latest collection by Danish jewellery brand byBiehl offers consumers the opportunity to help take care of the planet.
Always looking to create jewellery with personal value to the consumer, byBiehl has teamed up with the Eden Project to give more meaning to the new Jungle Ivy line.
With the new collection, the brand has a goal to plant more than a thousand Mangrove trees in Indonesia and on Madagascar, and help customers put action into their desire to take care of the planet.
"Since the first time I designed a jewellery for byBiehl, my mind has always been on the joy of life and beauty. But to live well, we must take care of the planet. It has great personal value to me, that we take care of the planet," shares byBiehl founder, Charlotte Biehl. "As a company I really think we are obligated to think about nature, and we really want to do a difference. Therefore, we have made an agreement with Eden Project, who will plant a Mangrove tree for every sold Jungle Ivy jewellery."
byBiehl has chosen the Mangrove tree because it obtains 50 times as much CO2 as other tropical trees.
"The trees are going to save us, and when we learned that the Mangrove tree only make-up 1% of the tropical rainforest, it was a logical choice," Biehl explains. "They actually work as the vacuum of the CO2 in the rainforest, so we really need every Mangrove tree."
The trees, which get planted in Madagascar, does not only help the environment. They are also part of a socioeconomic project which creates jobs for the locals and makes them into experts in growing Mangrove trees.
Brand founder Charlotte Biehl hopes that the launch of Jungle Ivy will create awareness about our shared responsibility to take care of the planet. Therefore, the campaign has the hashtag #bybiehlgivesbacktonature in a bid to help spread the news.
Moreover, byBiehl will plant 1,000 new Mangrove trees when the hashtag has been used 500 times.
"In order to get at big reach with our message, we have launched the hashtag #bybiehlgivesbacktonature, which we hope will be frequently employed on social media. We will plant 1,000 new Mangrove trees when the hashtag has been employed 500 times. The hashtag is a way to encourage people to feel like they can take action themselves when it comes to helping our planet."
News Source: professionaljeweller