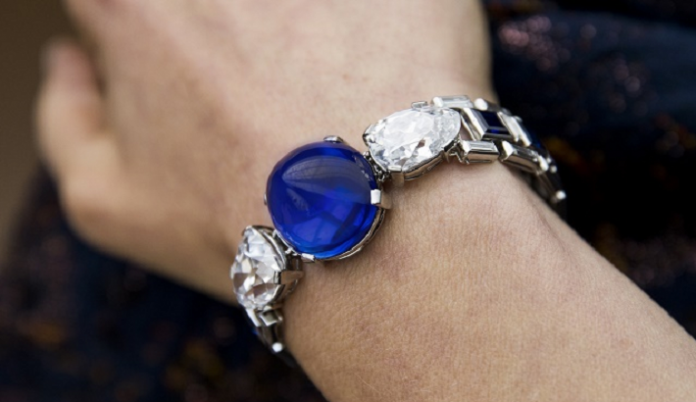 A 1927 Art Deco bracelet by Cartier tripled its pre-sale estimate at Sotheby's, realizing $6.13 million. After generating interest from six buyers, the bracelet was bought by an Asian collector.
The bracelet, which is set with a 46.07-carat cabochon sapphire, realized one of the highest results for a bracelet at auction.
"The magic of Art Deco continues to exert its spell on collectors around the world, with so much of tonight's rich offering racing away," said David Bennett, Worldwide Chairman, Sotheby's Jewellery Division. "With its sensational 'sugar loaf' Burmese sapphire and powerful geometric design, the Cartier bracelet that led tonight's sale was a true masterpiece, among the most important Art Deco pieces we've ever handled."
Other highlights included an emerald and diamond pendant/brooch combination, created by Cartier in 1927 which sold for $1,062,836, over four times its estimate and a white diamond weighing 78.29 carats which achieved $2,929,870.
The sale also saw a new record set for a very light blue diamond when a 14.69-carat pendant sold after prolonged bidding for $1,293,184.
Overall, the sale realized $53,932,112 with 80 percent of lots sold. Over 99 percent of lots sold achieved prices between or above their estimate, with 58 percent exceeding their estimates.
Sotheby's said there was strong interest from Asian collectors, approximately half of whom were female, with the top lot also selling to a female Asian collector.
News Source: idexonline