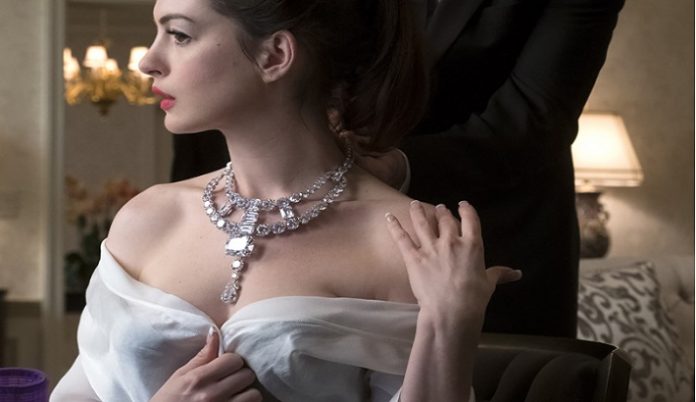 Action adventure firm Ocean's 8 asked Cartier to be its exclusive jewellery partner and play a starring role.
Ocean's 8 is the latest entry in the successful Ocean's franchise, and this time it places women centre stage with an all-female cast including stars such as Sandra Bullock, Cate Blanchett, Anne Hathaway, Mindy Kaling, and Helena Bonham Carter.
The premises of the film is that the crew women are trying to pull off a seemingly impossible heist at New York City's annual Met Gala. The target of the con? The Toussaint a legendary diamond necklace, made by Cartier, which will be worn by actress Anne Hathaway's character.
As the film places women centre stage, Cartier was happy to accept the role of exclusive jewellery partner.
In a dedicated statement, Cartier says the collaboration was a thriving yet challenging venture, especially as the jewellery was asked to create a very specific parure for the film's ultimate heist.
The targeted in Toussaint necklace worn by Anne Hathaway is a tribute to Jeanne Toussaint, Cartier's creative director in the 1930s whose role was decisive in establishing Maison's stylistic identity.
The original necklace was designed in 1931 for the Maharaja of Nawanagar by Jacques Cartier, and no longer exists; however, Cartier preserved in its archives a design drawing and photographs of the piece and its owner.
For the film, the necklace was adjusted to Anne Hathaway's measurements and reduced by 15 to 20% of the original size, as it was initially designed for a man. The coloured diamonds in the original piece were replaced with zirconium oxides, a natural material, mounted on white gold.
For this very special order, Cartier mobilised the resources of its high jewellery workshops situated rue de la Paix in Paris. Its best jewellers were required to accomplish this feat in no more than eight weeks, a demanding task on top of their everyday assignments.
Cartier was also the exclusive on-site jeweller during filming at the Metropolitan Museum. For five consecutive nights, jewellery was loaned to those making cameo appearances in the movie with pieces ranging from Cartier collection to current New or High Jewellery, as well as watches and accessories.
Prominently featured in the film, the Cartier Mansion, a New York City landmark, became the location of major scenes. For two days, the Mansion was closed to enable filming and its Salons were transformed into cinema sets.
The exterior of the Mansion on 52nd Street is also featured in the film.