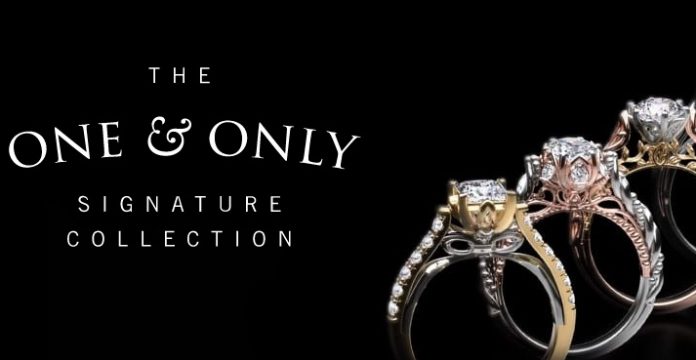 Online tech jewellery brand Jewlr has tapped into the luxury market for the very first time with a new collection named 'One and Only Signature'.
The new range marks Jewlr's expansion into the luxury market, and consists of six customisable engagement ring styles.
One ordered from the company's website, every aspect of the ring is tailored to the customer's taste, creating a one-of-a-kind piece for the wearer. By using cutting-edge online selection and preview technology, the customer can select the ring's bridge, setting and band in their chosen combination of 14ct or 18ct white, yellow or rose gold. Each ring can be made even more distinctive by selecting the 'signature' setting and adding subtle initials to the bridge of the ring. The selection process allows for up to 99 combinations from the six ring styles.
Jewlr founder Tony Davis comments: "I was inspired to launch a luxury personalised bridal jewellery product to the market and am confident it offers something totally fresh to the luxury jewellery landscape.
"After seeing such consistent success with our personalised promise, mother and bridal rings, we wanted to take this concept into a new market and offer our customers something extra special. As the business grows, the Jewlr brand continues to develop and thanks to our unique production methods, the possibilities of what we can create are endless. We're confident this will open up a new customer base for those looking to combine true luxury with something truly sentimental that they will wear forever."
As Jewlr expands into the luxury market, it has partnered with Edinburgh Assay Office to monitor quality control.
"Now that we are expanding into the luxury market, it's more important than ever that we provide our clients with every assurance that the jewellery they get from us not only meets, but exceeds industry standards," explains Davis. "Partnering with the EAO, one of the most trusted names in hallmarking, allows us to do that."
News Source: professionaljeweller.com