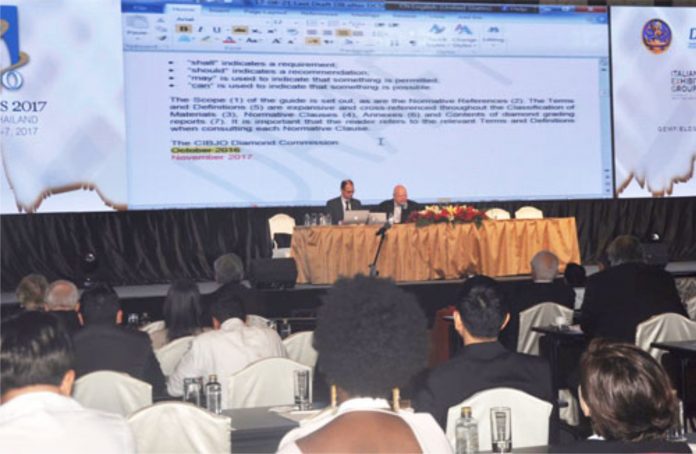 The World Federation of Diamond Bourses (WFDB), the International Diamond Manufacturers Association (IDMA) and CIBJO, the World Jewellery Confederation havve finalised an agreement for use of common nomenclature for trade in diamonds and diamond jewellery.
The agreement was concluded at the ongoing CIBJO Congress being currently held in Bangkok after amendments requested by the IDC to the CIBJO Diamond Book, as part of the agreement between the three organisations, were approved during the meeting of the Diamond Commission.
Following this, terms used in the International Diamond Council's (IDC) Rule Book and in CIBJO's Diamond Blue Book will now be fully harmonised.
CIBJO President Gaetano Cavalieri said that consumers can now refer to a single set of rules describing diamonds, and the agreement with the WFDB-IDMA "serves the interest of both the industry and the marketplace".
WFDB President Ernie Blom described the agreement as a "major step forward" and opined that "creating a single, universally applicable book will combat any confusion in the market about nomenclature".
Udi Sheintal, the CIBJO Diamond Commission President said that the existence of a common reference point will enhance consumer confidence.
IDC was established in 1975 to provide its founders – the WFDB and IDMA – with a set of universally accepted standards of nomenclature for polished diamonds within the international diamond trade, while the CIBJO Blue Books are constantly reviewed and updated to ensure that they are current with changing conditions and technological developments.
At the meeting of the Diamond Commission, the need for separate HS codes for synthetic diamonds was also discussed. Only India and China so far have such codes it was reported. "We want the national organizations to lobby their government to put some pressure on the World Customs Organisation (WCO) to make the change," Sheintal said.
He also suggested that CIBJO should reach out to the synthetic diamond manufacturers to see whether they could be associated with CIBJO in some appropriate format and work with the same nomenclature. He clarified that his idea, at this stage, was only for "reaching out" and not for the formation of a committee or formal group.
News Source: gjepc.org