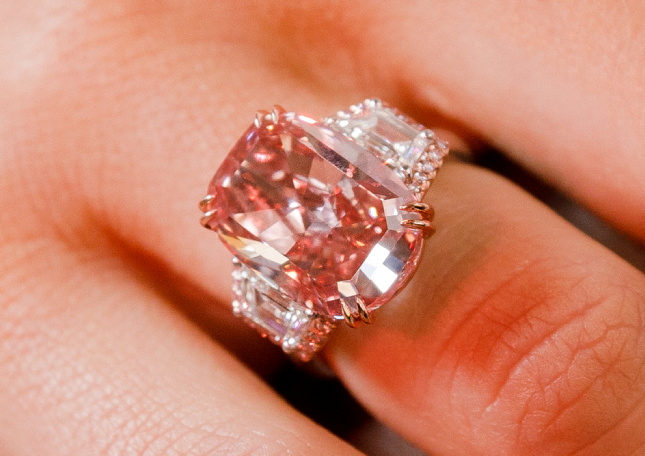 A private collector from Florida, USA, has paid a near-record $57.7m for the Williamson Pink Star, an 11.15-ct diamond described as "rare masterpiece of nature". The pre-sale estimate was just $21m.
It set a new world record for the price per carat ($5,178,124 ) at auction for any diamond or gemstone amid frenzied bidding at Sotheby's Hong Kong on Friday (7 October).
And it became the second most valuable jewel or gemstone ever sold at auction. The record remains with the the 59.60-carat CTF Pink Star, sold by Sotheby's for $71.2m in April 2017 to China's biggest jeweler, Chow Tai Fook.
The Williamson Pink Star, a cushion-shaped Fancy Vivid Pink Internally Flawless diamond named after the Petra mine, in Tanzania, attracted a flurry of nearly 50 bids.
It took 20 minutes, from an opening bid of $16.5m to reach the final price of $57.7m.
The stone was sold last December as a 32.32 carat pink rough gem for $13.8m to multinational manufacturer Diacore. Chairman Nir Livnat said it was a "rare masterpiece of nature"