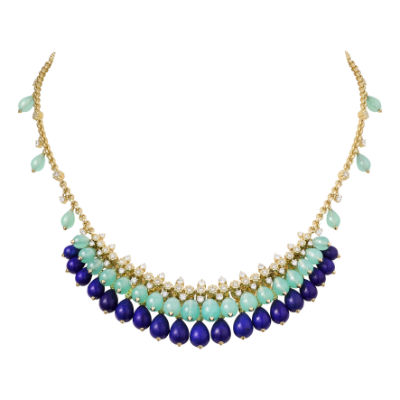 Couture spells perfection at every turn. Once exclusively the purview of high fashion, the term – and its accompanying standards – has been extended to jewellery that uses the finest of precious materials painstakingly crafted by hand into masterpieces of art and design.
Exuding sophistication and luxury, couture jewellery is exclusive and original, the product of the most creative and imaginative minds determined to bring to life their fascinating interpretation of the world.
Design and craftsmanship are integral to a couture jewellery piece. Going beyond designer handmade jewellery, couture jewellery contains that extra air of exclusivity that prestige and pedigree brings. The most brilliant of diamonds, the most dazzling of coloured gemstones are fashioned into veritable works of bejewelled art. Rare gems, special and intricate cuts, innovative settings, eye-catching silhouettes and non-traditional materials such as feathers and wood transform jewellery pieces into couture wonders.
Chopard, for instance, adds aluminium touches to its high jewellery collection this year, combining the metal with the finest rubies in an eye-catching necklace. A necklace made out of feathers is another of its 2018 showstoppers. Chanel, for its part, features bejewelled renditions of Gabrielle Chanel's favourite Coromandel folding screens in its latest high jewellery collection.
Dior has revelled in the manifold, majestic facets of Versailles, depicting the palace's beautiful gardens and interiors in its jewellery pieces. In its Couture collection, Van Cleef & Arpels reinterprets motifs and design elements that harken back to the Roaring Twenties, from cravat-inspired necklaces laced with diamonds to tassel pendants dripping with precious gems.
Cartier's Coloratura high jewellery collection of 240 exquisite, one-of-a-kind necklaces and suites of jewellery celebrates colours and cultures. Stone colours reflect the bold contrasts of Asia, the subtle palettes of Japan, the vivid shades of India and the dynamic tones of Africa. Motifs range from perfume bottles reminiscent of Asian lanterns to Art Deco green-and-black colour combinations.
News Source: jewellerynet.com