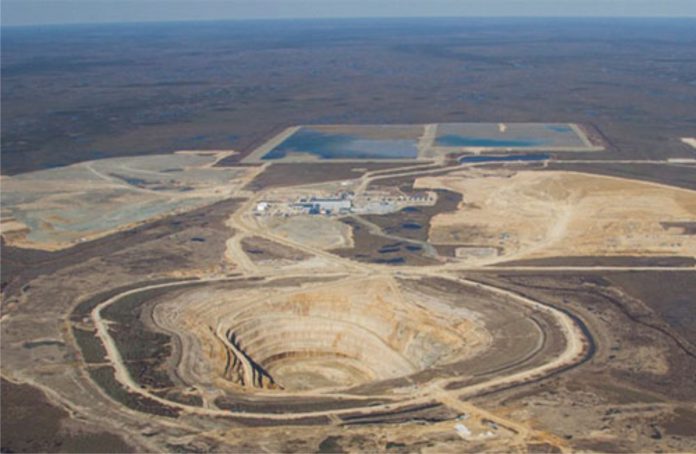 De Beers Group has said that its Victor mine in northern Ontario, Canada, will complete its current mine plan and cease mining and production by the first quarter of 2019, once the current open pit is depleted. This is in line with the original feasibility study and current mine plan, the Company said in a statement.
Based on a detailed mine closure plan drawn up even before the mine opened, De Beers had already commenced progressive reclamation work at the site over the past few years. Subsequent to complete cessation of mining and production, the demolition and environmental monitoring phase is expected to be completed within three to five years. The company said it will work closely with community partners to create opportunities for employment and awarding contracts during this period.
To date, the mine team has planted more than 200,000 tree saplings and willow stakes that were harvested and grown locally through a community youth work programme as part of the ongoing reclamation work.
De Beers said that production at Victor mine which commenced in July 2008, has exceeded its forecast production (six million carats) and has already produced approximately seven million carats to date. It will continue to operate at full production throughout its remaining life.
The mine was named International Mine of the Year in 2009 and twice received the John T. Ryan National Award for the safest mine in Canada, in 2015 and 2016.
Kim Truter, Chief Executive, De Beers Canada, said: "Victor mine has made a significant contribution to De Beers and to Canada, and the Victor mine team has consistently delivered the highest standards of performance and safety. While we are focused on continuing to maintain production for the duration of operations, we are also planning responsibly for Victor mine's closure in line with the agreed mine plan and our commitment to leaving a positive legacy."
With its Snap Lake mine being put on care and maintenance for the last few years, the Gahcho Kué diamond mine in Canada's Northwest Territories, the largest new diamond mine to open in more than a decade, which is operated with JV partner Mountain Province Diamonds, will remain De Beers only operational mine in Canada once Victor closes.
News Source: gjepc.org