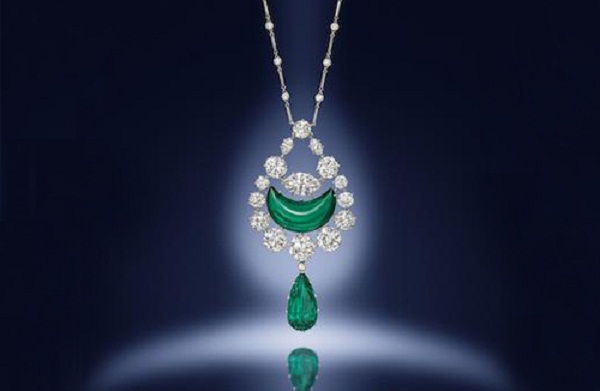 "Spectacular Art Deco Emeralds and Magnificent Diamonds", is how Bonhams summed up its headline pieces for its first London Fine Jewelry sale of 2018.
On April 25, the auction house will put on the block three outstanding Art Deco jewels by Hennell, one of Britain's oldest and most venerated jewellers, which closed shop in 2001. Hennell had reached the zenith of its popularity by the 20th century, and, Bonhams says, "was rightly regarded as the British jeweller".
Adds Bonhams: "Their clients, the crème de la crème of society, included members of the British aristocracy and landed gentry, Indian maharajas, American billionaires and European royalty. During the Art Deco period, Hennell was known for offering its discerning clientele jewels of superlative quality, rivaling the offerings of the best French houses."
The three Hennell pieces which will be put up for auction are from the private collection of Louise Stephens, wife of Michael Stephens, scion of the Stephens Ink family.
Michael's grandfather, Dr. Henry Stephens, invented an indelible "blue-black writing fluid" in 1832, which revolutionized office life and went on to earn a fortune for the family.
The most impressive of the three and the first to go on auction is an Emerald and Diamond Pendant/Necklace by Hennell, dating from the first quarter of the 20th century, estimated at £150,000 – 200,000. "Two magnificent Colombian emeralds feature in this piece: the first a double-sided cabochon emerald crescent, weighing 12.13 carats, and the second a pear-shaped emerald drop, weighing 6.23 carats," describes Bonhams. "Accompanying the emeralds is a marquise-cut diamond, weighing 2.47 carats, E colour, VS2 clarity and classified as Type IIa, graduating old brilliant-cut diamonds and two smaller marquise-cut diamonds (total diamond weight 15.95 carats)."
An Art Deco Emerald and Diamond Dress Ring by Hennell, circa 1930, estimated at £150,000 – 250,000 is the second piece in the collection. "The magnificent emerald, weighing 9.28 carats, is of Colombian origin, with minor clarity enhancement by oil and is cut as a polished sugarloaf cabochon," elaborates Bonhams. "The striking gem is offset by the ring's refined gallery and shoulders that are an elegant jigsaw of trapezoid, baguette, tapered baguette and square-cut diamonds. At the time, this combination of different cuts and types of setting would have been the last word in sophisticated modern jewellery design."
Emily Barber, Director of Bonhams Jewelry, UK, commented: "The gems in these two jewels are not only superlative examples of Colombian emeralds but also of the vogue for "Mughal Empire" style jewellery in the first part of the 20th century. At this time, European jewellers looked to the traditional jewels of the Indian sub-continent for inspiration, incorporating large, top-quality polished – as opposed to facetted – gems into their modern platinum creations."
The third and final piece from the collection of Hennell jewellery is a Diamond Clip Brooch, circa 1930. Consisting of an estimated 40.15 carats of old-cut diamonds, the brooch is estimated at £100,000 – 150,000. "Elegant in its design, the brooch consists of a double tier of cushion-shaped and old brilliant-cut diamonds, with a pear-shaped diamond weighing 7.49 carats, at the center," Bonhams said.
Apart from the Hennell jewels other noteworthy pieces include a striking Cartier Art Deco Emerald and Diamond bracelet, circa 1930, and estimated at £80,000-120,000, a representation of what is dubbed as "Cartier's homage to India during the first part of the 20th century".
"The vogue for Indian-inspired jewellery particularly resonated in England because of Britain's Imperial interests and Cartier astutely made their London branch the pivot for all things connected with India, including customer relations with visiting maharajas who brought their valuable historic family gems to be re-set into modern European jewels and the sourcing of gems from India to use in their Indian-inspired jewels bought by Europeans," Bonhams says. "Here, the vibrant emerald beads, no doubt sourced from India, are combined with diamond-set Oriental "fountain" motifs."
Finally, there is an Art Deco Emerald and Diamond Necklace/Bracelet combination estimated at £150,000-250,000. "The front five emeralds are of optimum colour and transparency and are of Colombian origin and range from minor clarity enhancement to no clarity enhancement," says Bonhams.
As, according to the auction house "No Fine Jewelry sale at Bonhams would be complete without diamonds", this sale features three notable pieces.
Also at the auction will be signed jewellery from Van Cleef & Arpels, Bulgari, Cartier and Tiffany & Co.
Pic Cap:
The emerald and diamond pendant/necklace, by Hennell, dating from first quarter of the 20th century
Pic Courtesy: Bonhams