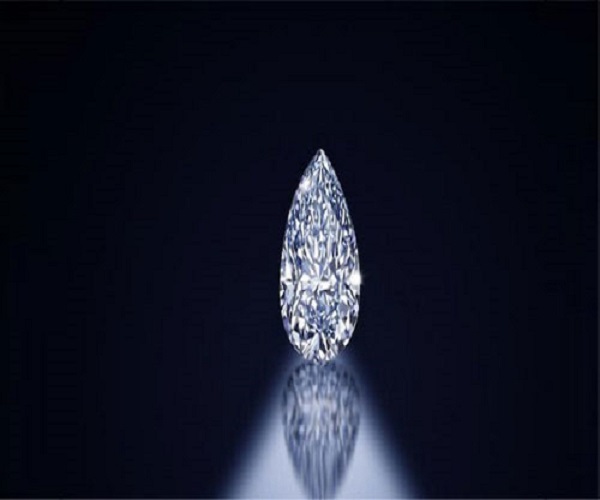 A 4.03 fancy intense blue diamond will be one of the headline items among the 188 lots that will be put up for sale at the Bonhams London Fine Jewellery Sale on September 20, 2017. The diamond, with an estimated price between £1,200,000-1,500,000 is pear-shaped and has been in a UK private collection for over 30 years.
The September sale includes a wide selection of white and coloured diamonds, sapphires from Kashmir, Burma and Sri Lanka, signed jewellery from Cartier and Van Cleef & Arpels, and the largest private collection of jewellery ever to come to auction by Anglo-Italian designer Andrew Grima.
A fancy gray-blue diamond and a Kashmir sapphire ring are among the other potential headline lots, Bonhams said. The former is a central square step-cut diamond weighing 4.83 carats set in a brooch with a fancy dark brown-greenish yellow step-cut diamond on either side, weighing 2.51 carats and 2.38 carats respectively and a suspended pear-shape fancy pink diamond drop below, weighing 1.90 carats. The brooch dates from the mid-20th century and has a pre-sale estimate of £650,000-850,000.
The Kashmir sapphire is in a single-stone ring, weighing 9.61 carats, and is an octagonal step-cut stone with no indications of heating. Its price is estimated at £500,000–700,000.
Bonhams will also be auctioning a number of signed pieces of jewellery by Cartier as part of its sale. These include a pair of Art Deco diamond clip brooches by Cartier, circa 1935, estimated at £40,000-60,000 and an emerald and diamond bracelet by Cartier, which dates from the 1960s, featuring a series of alternating step and octagonal-cut emeralds, accented to either side by brilliant-cut diamonds with a pre-sale estimate of £50,000-70,000.
An old marquise-cut Type IIb white diamond single-stone ring, weighing 4.61 carats, in D colour, VVS2 clarity, and potentially flawless has a pre-sale estimate of £80,000-100,000.
On sale also is the largest private collection of jewels by Andrew Grima ever to appear at auction. Grima was one of the great modernist jewellery designers of the 20th century. The collection features 55 pieces of jewellery with some of the highlights being from his admired "About Time" watch collection for Omega, one of the most innovative collections of watches ever made, as well as works from the "Rock Revival" collection which incorporated large, uncut and unusual gemstone crystals.
Jean Ghika, Head of Jewellery for Bonhams UK & Europe, said: "Blue diamonds are extremely rare and highly coveted… (and) Kashmir sapphires are amongst the most highly prized gems for serious collectors given the mines were only open for a period of approximately 30 years from the late 1880s onwards. We are looking forward to showcasing (these) stone(s), along with other selected lots in London, New York, Hong Kong and Geneva, where we anticipate considerable interest."
News Source:gjepc.org