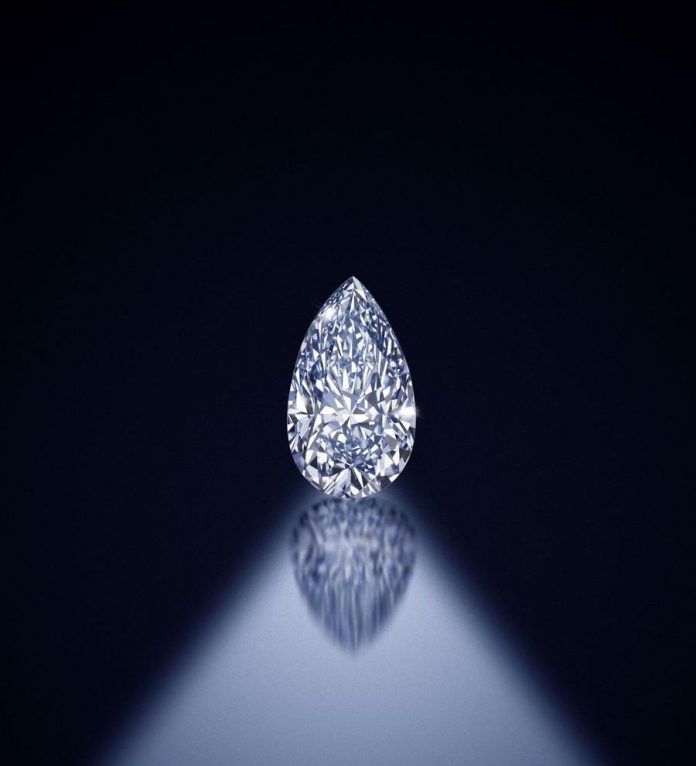 Graff Diamonds purchased a fancy intense blue diamond which has been held in a private collection for nearly 30 years, at Bonhams Fine Jewellery sale in London last week, paying a massive £2,685,000. The pear-shaped diamond, which weighs 4.03 carats, was bought by Graff at a price of $853,203 per carat.
A Kashmir sapphire single-stone ring, with the octagonal step-cut gemstone weighing 9.61 carats, with no indications of heating, was bought for £845,000, equating to $112,600 price per carat.
Another piece of jewellery which was also a best seller a fancy coloured diamond brooch from the mid-20th century which sold for £725,000. It comprised four fancy coloured diamonds: a square step-cut fancy gray-blue diamond, weighing 4.83 carats, two fancy dark brown-greenish yellow step-cut diamonds, weighing 2.51 carats and 2.38 carats respectively, and a pear-shaped fancy pink diamond, weighing 1.90 carats.
Among white diamonds, an old marquise-cut diamond single-stone ring, weighing 4.61 carats, D colour, VVS2 clarity, potentially flawless, sold for £118,750 against its pre-sale estimate of £80,000-100,000.
Jean Ghika, Head of Jewellery, Bonhams UK & Europe, said: "Our top lots performed extremely well with global buyers vying for the prize lots. The blue diamond and Kashmir sapphire both achieved strong hammer prices, demonstrating discerning collectors will always seek out the best examples when it comes to fine gemstones."
The overall sale total was £7,615,375 with 93 per cent lots sold by value.
Last week, Bonhams New York also completed a Fine Jewellery Sale, with a 16.90 carat certified as D color, Internally Flawless and classified as Type IIa diamond being bought by a private US buyer for $1,800,000.
Kashmir sapphires also were in demand at the sale with a sapphire and diamond ring by Stephen Russell featuring a cabochon sapphire, with no indications of heat or clarity enhancement and weighing 5.33 carats, set within a frame of old European cut diamonds, selling to an online buyer for $235,000.
Similarly, a sapphire and diamond ring centering a cushion shaped mixed-cut sapphire, weighing 5.30 carats, another 'no heat' sapphire is of Kashmir origin set within a frame of old European-cut diamonds sold for $230,000 against its pre-sale estimate of $100,000-150,000.
A number of Cartier signed pieces also did well at both auctions.
At the New York sale, attention was also focused on a brooch bought for $8 at garage sale five years ago, which later proved to be a valuable piece of fine jewellery studded with a diamond, emerald and ruby brooch, circa 1900. It finally sold for $26,000 (£19,400).
News Source: gjepc.org