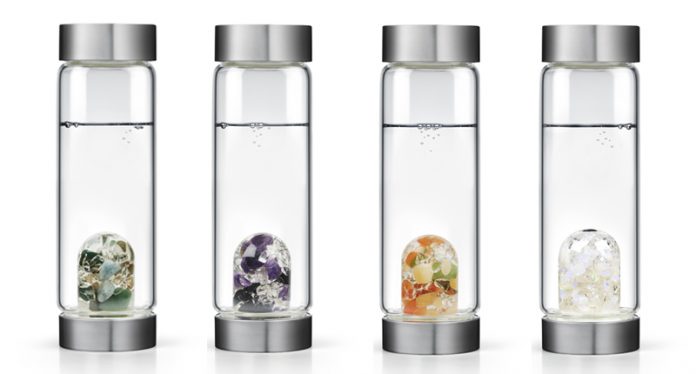 Los Angeles–A year since its launch, Gem-Water has made an impact in the jewelry industry and beyond.
Founded by Anjanette Sinesio, Gem-Water makes water bottles and accessories embedded with crystals that are meant to infuse liquid with their properties, resulting in a distinctly mineral taste.
Today, Gem-Water is carried in more than 150 jewelry, home and specialty retail stores around the world including 37 Neiman Marcus locations; Bloomingdale's Dubai; Lux, Bond & Green; Gwynn's; Astro West; Mann's; Inscape and Revolve Clothing.
It's received press in consumer magazines Vogue, Elle, In Style and W Magazine, among others, and digital coverage on The Coveteur, Forbes and PopSugar.
Sinesio has also partnered with various brands, creating a custom Gem-Water product for John Hardy, which was given to customers who shopped with the brand the weekend after Thanksgiving.
The company has also partnered with skincare line Jurlique with special giveaways last holiday season.
"The interest in crystals and gems as health and wellness tools is prevalent right now," Sinesio said. "Retailers, whether their focus lies in jewelry, wellness, beauty or home goods, have eagerly embraced Gem-Water and I expect sustained growth as I continue my mission to share this with the world."
As Gem-Water has expanded, Sinesio's husband Dominic has joined the company to keep up with growth.
He owned a boutique branding firm for more than 20 years that worked with clients like Godiva, The Chopra Center, London Jewelers, Swatch, Todd Reed, Revlon and Chanel. Now, he has joined Gem-Water as its creative director.
Gem-Water is also rolling out four new crystal blends available this month for $120 each.
"Happiness" features a mix of carnelian, orange calcite, jade and clear quartz. "Guardian" utilizes black tourmaline, amethyst and clear quartz for protection. "Luna" harnesses the power of rainbow moonstone and clear quartz to connect users with the energy of the moon and "Forever Young" is a mix focused on vitality and energy, featuring aventurine, quartz, aquamarine, smoky quartz and clear quartz.
Gem-Water said that it has added garnet and clear quartz to its "Love" blend and chalcedony to its "Balance" blend. Both will continue to retail for $98.
News Source : nationaljeweler.com