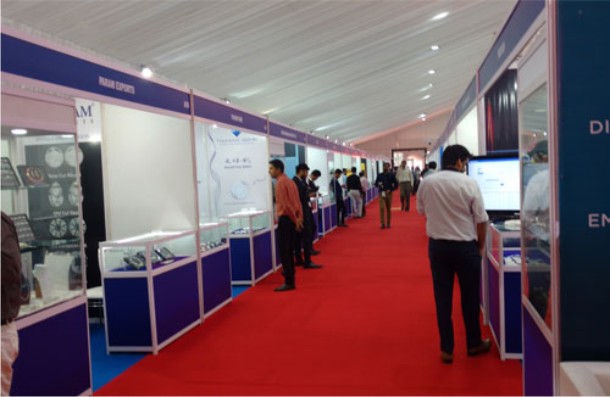 Exhibitors and visitors to the Bharat Diamond Week seemed generally satisfied with the outcome as the first ever trade show to be held entirely within the premises of a diamond bourse in India came to a close in Mumbai today.
"The response exceeded our expectations," said Mehul Shah, Vice-President, Bharat Diamond Bourse, and the chief organiser of the diamond week. "There was both serious business discussed over the past three days as well as a lot of networking opportunities and these will surely yield results for the diamond manufacturers over the coming months," he stated.
Though this was the first diamond week organised by the BDB, it generated a good response both in established trading centres and also other markets. "Information about this event was disseminated through the WFDB's member bourses and via the trade media," Shah explained, "and, as a result, we had visitors from over 20 countries. They had to submit details of their business to complete a type of KYC, and we are sure that they are quality buyers."
Adding that the bourse was also careful to ensure that the exhibitors adhered to certain standards, he said that the organisers had excluded those who may have defaulted on loans on against whom there had been other complaints.
What made the show different and special? Most exhibitors pointed to two factors – that this was a "diamonds-only" show and its unique location, right within the heart of the bourse complex.
Baiju Shah of Pridiam was all praise for the format. "Having a smaller show dedicated to loose polished diamonds is very good. We had focused buyers, a large number from Israel and some from Belgium as well as the US, and they had ample time to look at what was being offered. This has been a good launch pad, and it is sure to grow."
In a similar vein, Ntishi Shah of Janam Corporation felt that though the number of visitors was not very large, they were "serious, quality byers." Stating that the company had received inquiries from trade visitors from Israel as well as wholesalers and distributors from India, Shah said, "We have established some good contacts and are hopeful of being able to build strong relationships."
The ease of doing business as a result of the near-seamless integration between a company's booth at the show and its office that at best was a couple of blocks away within the same complex, was another important advantage cited by most exhibitors who gave a thumbs up to the show.
"If a visitor liked the goods I showed them at the booth, I could easily take them up to the office to see a much wider selection," said Pranay Mehta of K.Girdharlal. "It made servicing the customer easier."
"Being at the show was almost like an extension of our office," opined Mayank Vora of Venus Jewel, "so once we identified a reatively serious inquiry we could have more detailed interaction by taking him over there. Normally such immediate follow up doesn't happen within the confines of a trade show."
Paresh & Devang Shah at Shine Forever Diamonds stated that in addition to facilitating more in-depth interaction with buyers, the location also made it easy to move goods and manage a lot of other administrative tasks that are more challenging at a remote venue in other cities or at locations far from the actual trading hub.
At the Venus Jewel booth, Mayank Vora expressed satisfaction at the turnout, especially considering it was an inaugural show. The company's unique hologram machine, which gives detailed 3D views of each diamond listed in stock, was a special attraction and he said they have been able to start conversations with potential new clients.
Striking a somewhat different note was Nikunj Kothari of KBS Diamonds, who felt that since the show was within the bourse complex, quite a few international buyers spent a substantial amount of time visiting offices of those they met at the outset. "Spending mroe time at the show helps them see a wider range of goods and also meet newer and lesser known companies also."
Kothari however said that they were satisfied with the response, though the number of visitors was somewhat lower than they had expected. "Those who were there were serious, and the show can certainly grow in the future."
Pranay Mehta of K. Girdharlal also had some suggestions. "The organisers could perhaps incorporate some of the elements of smaller Buyer-Seller meets such as enabling pre-fixed appointments and slots for one-on-one interaction," he said, adding that this would facilitate conversions.
Mehta also felt that in the future there could be a greater emphasis on reaching out to companies at the end of the pipeline directly by inviting for example US jewellery chains with between 10-30 stores. "Most of the larger chains already have their suppliers in place. Tapping new segments to establish direct linkages with the jewellers will be beneficial to both."
Among the buyers too, there was a reasonably good response to the format and the show. Offer Nof, VP of Nof Offer Diamonds from Israel said his company was already doing business in India, but this type of show offered many advantages. "It's like all the main offices scattered across this huge complex have come down to one spot. This makes it easy for us to compare, to make new contacts and develop supplier connections for the future. It would have taken us much longer if we had to go door-to-door instead."
David Lasher and Moshe Elkayam, both from the New York Diamond Dealers Club strongly emphasised the many positives of their visit to the show. "We can explore different dimensions of the Indian industry so easily, and then also follow up with visits to their offices. The wide variety of goods available are all here for us to see. It was an excellent opportunity."
Mehul Shah said that BDB plans to make this a regular show. "The show was conceptualised to help boost business at a time when the industry is facing many challenges," he said, "and we have had a fair degree of success. Particularly, the Diamond Week has enabled SME companies to participate and display their goods to the international market. We expect more members will want to benefit from such a show in the future."
The next edition of the Bharat Diamond Week is likely to be held in October, Shah said, and the show could grow bigger too. The present venue and facilities set up this time could accommodate up to about 150-175 booths, he pointed out, adding that if there was demand from more companies, the committee would consider using other open spaces as well. Eventually, it could be at least twice or even three times as big a show, he concluded.
News Source : gjepc.org