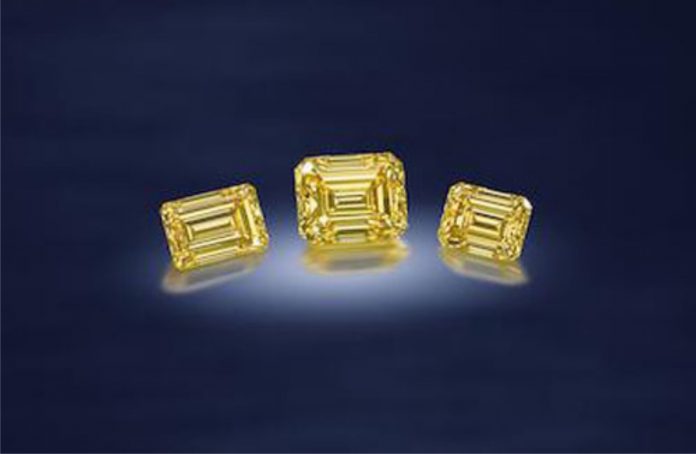 Earlier this month, a collection of extremely rare Fancy Vivid Yellow diamonds with a provenance steeped in world-class diamond history became the subject of a fierce bidding war at Bonhams London Fine Jewellery sale, the auction house said. The collection finally sold for a total of £ 577,750.
"Achieving higher than expected prices, the Fancy Vivid Yellow diamonds hail from the Cullinan family," Bonhams said. "This was the first time the coloured diamonds have come to auction."
Jean Ghika, Bonhams Director of Jewellery for UK & Europe, said: "The Fancy Vivid Yellow diamonds in this collection are exceptionally well matched in colour and boast an enviable provenance. They were extremely popular in our previews in London, New York and Hong Kong and were highly sought after by a number of our discerning clients. I'm delighted they performed so well in the sale."
The diamonds come with a story. "The diamonds were acquired in 1940 during a train journey when the present owner's father-in-law, R.V. Cullinan, son of the famous South African diamond magnate Sir Thomas Cullinan, asked his friend General Pierre De Villiers, a director of De Beers, to buy him some diamonds on his next visit to Kimberley," Bonhams recounted. "On the train back from the De Beers mine at Kimberley, Sir Ernest Oppenheimer asked General De Villiers "What have you got this time?" The General retrieved a packet from his pocket and proudly showed Sir Ernest, who replied "I can do better than that" and showed the General a set of yellow diamonds. A deal was struck. The diamonds were then purchased by the General, who kept half, and the other half were given to R.V. Cullinan." And it was the latter which were put up for auction.
The star performer of the sale, Bonhams noted, was a Fancy Coloured Diamond and Diamond Brooch, set with three step-cut Fancy Vivid Yellow diamonds, weighing 5.29, 3.11 and 2.37 carats. The piece was bought by an online buyer for £ 452,750 – a price surpassing the pre-sale estimate of £ 200,000-300,000.
The other highlight of the auction was a pair of Fancy Coloured Diamond and Diamond Earclips, which sold for £ 125,000 against an estimate of £ 50,000-80,000. The brilliant-cut Fancy Vivid Yellow diamonds weighed 2.08 and 1.93 carats respectively.
Ghika concluded: "Buyers from 25 countries around the world participated in our final Fine Jewellery sale of 2017. Our results show that demand for fancy coloured diamonds, white diamonds, natural pearls and signed jewellery is as strong as ever."
Pic Cap:
The Fancy Vivid Yellow of historic provenance
Pic Courtesy: Bonhams
News Source: gjepc.org