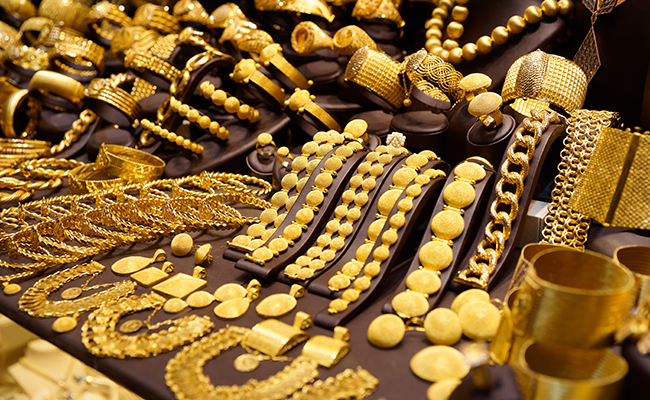 The demand for gold jewellery, considered the primary store of value in rural India, fell by as much as 30% in the run-up to Diwali due to untimely rains in the October harvesting season, the lingering effects of demonetisation, and an increase in bullion prices after the rollout of the goods and services tax (GST).
With the impact of these factors unlikely to recede quickly, jewellers are penciling in muted sales even on the eve of Dhanteras on October 17, two days ahead of Diwali. Most Indians purchase bullion on Akshay Tritiya and Dhanteras, festivals linked to farming
cycles and symbolising prosperity.
"The rains have marred pre-Diwali sales this year and it is going to impact the Dhanteras sales as well," said Nitin Khandelwal, chairman, All India Gem & Jewellery Trade Federation (GJF). "In those states where rains in October have caused extensive damage, the drop in demand may be as high as 50%. But overall, there is a drop of around 30% in rural India. And the market is subdued."
Demand for the yellow metal in India, as indicated by the World Gold Council, will range between 650 and 750 tonne this year. Rural India accounts for 60% of the consumption. Dhanteras is the most important festival from the standpoint of rural gold purchases, with farmers using the sale proceeds of the newly harvested crop to buy jewellery.
Gold is generally considered an important asset in rural India. But if crops are damaged, farmers prefer liquidity to jewellery purchases, as a shrinkage in farming output puts a premium on the cash in hand.
Furthermore, the lingering effects of the currency clampdown and a 3% GST have combined to magnify the impact of unseasonal rains.
"The effect of demonetisation is still continuing, and a 3% GST has also increased the prices of gold, affecting sentiment," said Saurabh Gadgil, managing director at PNG Jewellers, which has 12 retail outlets in rural Maharashtra.
"But the rains have caused inconvenience in the rural markets, affecting demand," Gadgil said, adding that farmers don't have sufficient cash to buy gold.
News Source : economictimes.indiatimes.com