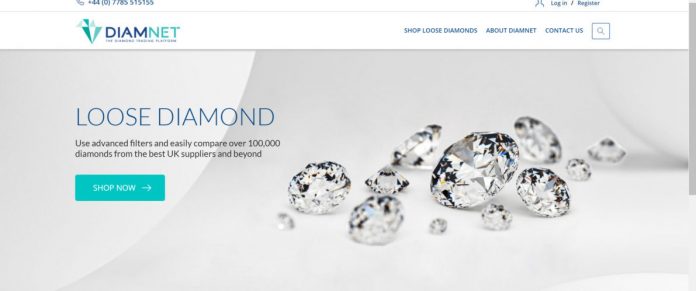 Diamond trading platform, Diamnet, has been created to try and 'level the playing field' for independents loosing engagement ring sales to online jewellery giants.
Diamnet launched last year with over 100,000 diamonds from the UK's leading suppliers, alongside international options too, and today it is now live and ready for retailers to sign up.
Created by former Chalfen managing director, Howard Levine, the platform offers retailers a 'virtual inventory' to scan and purchase diamonds from a variety of suppliers in one place.
The easy-to-use platform enables retail staff to search for specific stones to meet specific customer requirements, and compare quotes and details with a few clicks of a button. Furthermore, stores can request stones to come into store, and these will all be sent and delivered from one location.
"Most retailers will have one or two diamond dealers or even a manufacturer that they deal with on a regular basis," explains Diamnet founder, Howard Levine. "Whenever there is an enquiry or something needed for stock these are the guys you would contact. Why limit yourself to just one or two sources? Diamnet brings together diamonds from the best cutters and wholesalers so you can have a better choice. You might find the source is in the end the same, but by putting this many diamonds together in a single resource, you are assured of finding the best stone at the best price."
The Diamnet service is free and available to retailers who register as a trade member.
Looking to the future, the next phase will include mounts from leading suppliers including Domino, Hockley Mint, and River Mounts, and in the future Diamnet will offer retailers a customer facing online portal, complete with each tore's own name and branding.
Once fully complete, Levine believe Diamnet will help independent retailers "level the playing field", as they will be able to compete with online jewellery giants by offering the very same facilities, alongside the added bonus of being able to invite them in store for an exceptional customer experience.
The ultimate goal for Levine? For Diamnet to give traditional jewellers all of the strengths online e-tailers have.
Levine says: "Independents are in a strong position to fight back and keep people in stores, they just need to embrace personalisation, omnichannel, and the in-store experience, which is why I launched Diamnet."
News Source : professionaljeweller.com