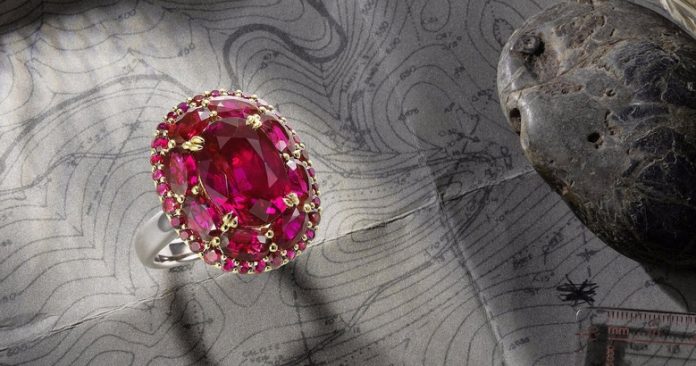 Ring embellished with a 6.44 carat anrique cushion shaped ruby centre gem, surrounded by small rubies
A pair of emerald and diamond earrings by Harry Winston
A fine emerald and diamond brooch / pendant necklace by Harry Winston
Ring by David Webb adorned with an 11.01 carat, step cut emerald centre stone by trillion cut diamond shoulder's
Fine jewellery embellished with exceptional natural emeralds were the stellar performers at Bonhams' Rare Jewels & Jadeite auction in Hong Kong.
The top lot was a ring by David Webb with an 11.01-carat, step-cut emerald centre stone, flanked by trillion-cut diamond shoulders of approximately 3.10 carats. The piece, which sold for HK$5.46 million (about US$700,453.52), was accompanied by a report from the American Gemological Laboratories (AGL), stating that the natural Colombian emerald has no indications of clarity enhancement.
Another excellent performer was a pair of emerald and diamond earrings by Harry Winston, which fetched HK$3.24 million (around US$415,653).
The step-cut emeralds, weighing 6.85 and 6.18 carats, respectively, are accented by marquise-cut diamonds with an approximate total carat weight of 3.00, noted Bonhams. The natural emeralds are of Colombian origin, according to AGL.
Another Harry Winston piece, a fine emerald and diamond brooch/pendant necklace, likewise commanded attention at the auction. The piece was snapped up for HK$2.22 million (around US$284,799).
The brooch/pendant necklace is adorned with a step-cut emerald weighing 6.04 carats, within an openwork pear-shaped diamond surround, completed by a flat curb-chain necklace pavé-set with brilliant-cut diamonds. It also comes with an AGL report saying the natural emerald has no indications of clarity enhancement and originates from Colombia.
A fine ruby dress ring, embellished with a 6.44-carat antique cushion-shaped ruby, within a similarly cut ruby surround, accented by smaller circular-cut rubies, was another show stopper. The piece fetched HK$3.54 million (around US$454,140).
News Source: jewellerynewsasia.com