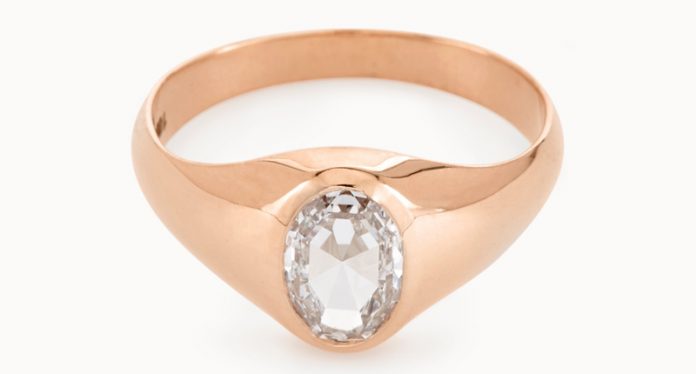 Los Angeles–Less than six months after opening, fine jewelry line Vrai & Oro has shuttered its first brick-and-mortar retail location.
The brand began in 2014 as an online-only venture, marketing itself as a company that sold directly to customers without a retail markup.
In November 2016, Diamond Foundry—the Silicon Valley man-made diamond start-up that uses solar power technology to create its stones—purchased Vrai & Oro, which led to a slew of growth initiatives for the brand.
Vrai & Oro began using Diamond Foundry stones exclusively and launched both a bridal collection and a collection of jewelry that featured significantly larger diamonds than Vrai & Oro had used in the past.
In August last year, Vrai & Oro opened its first store in downtown Los Angeles at the ROW DTLA shopping center.
In the first week of January, Vrai & Oro founder Vanessa Stofenmacher announced the closing of the store on the brand's website, writing, "The fact is that retail is a true challenge—one that we would never enter into lightly, and we have to give props to those thriving in that environment."
Stofenmacher told National Jeweler that the company gained valuable feedback from their in-person customer interactions while the store was open.
"We opened a local showroom to gather high-touch feedback from our customers," she said. "This succeeded in helping us improve our offerings in many ways. Retail is changing quickly and a lot of brands are experimenting with new models so we're watching the space closely but presently still have a ways to go on digital."
Stofenmacher also said that, despite the store's closing, her view of brick-and-mortar retail hasn't necessarily changed—she still thinks that fine jewelry is best experienced in person, rather than online only.
"When our customers have the opportunity to experience our designs in person, it's a no-brainer for them," she said.
Vrai & Oro will focus on its online business and expanding its product for the time being, but isn't counting out different retail possibilities in the future.
"We are currently focused on improving our brand experience online, including new offerings that bring a new level of jewelry customization to everyone," said Stofenmacher. "We are open to partnerships for creating a progressive retail experience with a nationwide footprint."
News Source: gjepc.org