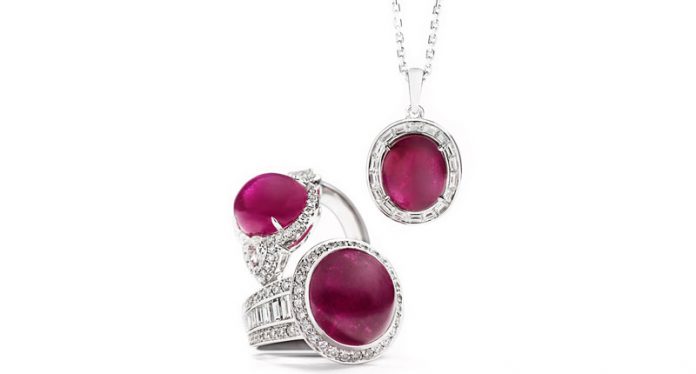 A jewelry collection featuring Greenland rubies and pink sapphires is launching this week.
While other jewelry designers have worked with the gems before, Danish luxury brand Hartmann's Jewellery is the first to create a full collection centered on the stones.
It is comprised of more than 50 pieces using about 300 carats of rubies and pink sapphires from the ice-covered island.
Greenland Ruby is the only company currently mining rubies and pink sapphires in Greenland. It does so at a remote site in Aappaluttoq, Greenland, 155 miles south of Nuuk, the country's capital.
Ulrik Hartmann, founder and owner of Hartmann's, visited the Aappaluttoq mine in August.
He took a Danish TV cameraman along with him with to take videos and still photography of the scenery for a campaign posted across social media and on the company's website.
The jeweler also is focusing on the traceable mine-to-market aspect of the stones, as well as its responsible sourcing component—each Greenland Ruby gem comes with a certificate of origin authorized and issued by the Government of Greenland, guaranteeing a high standard for human rights and environmental responsibility, the company said.
"The idea that corundum formed beneath this incredible landscape 3 billion years ago intrigued me," Hartmann said. "Introducing this new source of ruby and pink sapphire, while also honoring its isolated, rare, and unique setting, will be a pleasure."
The collection ranges in price from $1,500 to $45,000 at retail. According to the Hartmann's website, the collection will launch Wednesday (Nov. 21) and be available in Scandinavia. (No further information about possible future distribution was available by press time.)
Hartmann's specializes in offering some of the world's most exclusive gems, especially colored diamonds.
It is one of only a few retailers in Europe that is an "Argyle Pink Select Atelier," for the rare pink diamonds it sells from Rio Tinto's Argyle mine in Western Australia, and is the sole distributor of Boucheron's luxury branded jewelry and watches in Scandinavia.
News Source: nationaljeweler.com