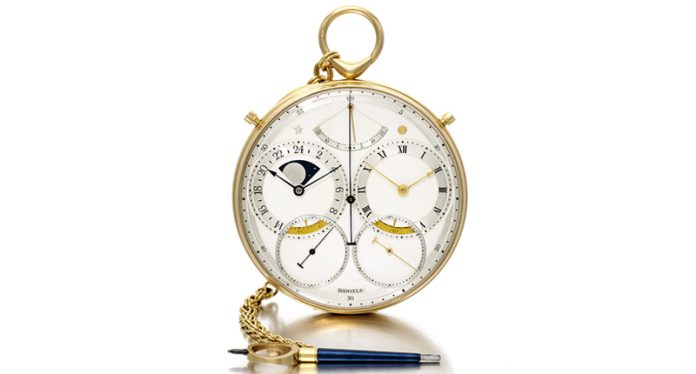 London-One pocket watch re-established its place as the most valuable English watch at auction-both made in England and made by an English watchmaker-when it beat its own record on Tuesday.
George Daniels's "Space Travellers" went for $4.3 million at the Sotheby's London Fine Timepieces sale Tuesday, beating its previous record of $2.1 million in 2012 and its pre-sale estimate high of $2.4 million.
Four bidders competed before it sold to an anonymous buyer in the room after almost 10 minutes of bidding action.
The auction house said the 18-karat yellow gold chronograph with Daniels' independent double-wheel escapement, made circa 1982, is "one of the celebrated British watchmaker's most important timepieces."
Daniels (Aug. 19, 1926 to Oct. 21, 2011) was a world-renowned horologist and, according to Sotheby's, the most important of the 20th century.
He was the only watchmaker to have received a CBE and a MBE for his services to horology, and was the inventor of the Daniels revolutionary 'Co-Axial' escapement, which was developed during the 1970s and designed to run unaffected by the deterioration of its lubricant.
Created to replace an early, much treasured version, which Daniels regrettably sold to a collector, the Space Travellers watch was significant to him personally and often was worn as a showpiece by the watchmaker.
He named it in honor of the American moon landing in 1969 and described it as "the kind of watch you would need on your package tour to Mars."
It is one of only two ever made in this style and is unique in its inclusion of a chronograph.
It features both mean-solar time and sidereal times (time reckoned from the motion of the earth relative to the distant stars, rather than with respect to the sun) and a glazed case back showcasing its complex mechanism.
"It is not possible to overstate the importance of George Daniels's contribution to horology," said Daryn Schnipper, senior vice president and chairman of the International Watch Division.
"Despite having only ever made a relatively small number of timepieces in his lifetime, Daniels's work and his legacy continue to be critical to the craft of watchmaking. The landmark price achieved today is both a tribute to Daniels's genius and the supreme quality of this watch. The 'Space Travellers' watch is no doubt one of Daniels's finest timepieces and one can only be mesmerized by the beauty of its dial and the complexity and wonder of its movement."
The auction house's Fine Timepieces sale totaled $6.3 million.
News Source: nationaljeweler