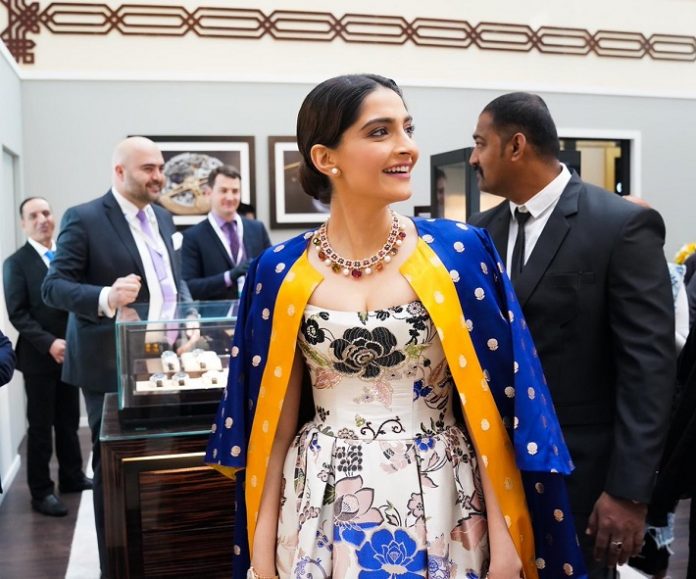 The India Pavilion at the 17th Doha Jewellery & Watches Exhibition (DJWE) which opened in Qatar today was inaugurated by DJWE brand ambassador and Bollywood star Sonam Kapoor in the presence of the Indian Ambassador Shri P. Kumaran. The pavilion has 27 exhibitors showcasing a wide range of jewellery and is one of the highlights of the show, which will run from February 24-29, 2020.
The Bollywood star came to the India Pavilion shortly after opening the main show which is being held under the patronage of HE Sheikh Khalid bin Khalifa bin Abdulaziz al-Thani, Prime Minister and Minister of Interior. The actor met the individual exhibitors at the pavilion and wished them luck.
The show, organised by the Qatar National Tourism Council (QNTC), has 127 exhibitors representing 14 countries and over 500 local and international brands and is spread over 33,000 square meters at the Doha Exhibition and Convention Center. This year's edition registered a 65% increase in number of participating exhibitors and 12% growth in exhibition space. A Turkish Pavilion with 11 brands is among the new additions.
On offer at the India Pavilion is a complete range of products from studded jewellery with stones like rubies, emeralds, sapphires and pearls, to plain and handmade jewellery. The collections include a wide range of contemporary, modern jewellery with detailed and exquisite craftsmanship and designs inspired by European and Middle Eastern trends over the last few decades.
India Pavilion includes – Amore Jewels Pvt Ltd, Belisma, Champalal and Co (Jewellers), Creative Overseas, Deepika Creations, De'viva Jewels, Full Moon Jewels, G.M. Products Pvt Ltd, GDK Jewels Pvt Ltd, Hia Exports, Iris Jewels, Jagan Nath Hem Chand; J H Jewellers LLP, KK Jewels, Kothari's Jewellers, LS Enterprises, Lodha Jeweller, Lotus Gem, Mehta & Sons, M L Impex, Noor Jewels, Rishabh Durga Gems and Jewels, Shrians Jewels, Sital Dass and Sons, Sital Dass Son, Vihaan Exims Co Pvt Ltd, Zel Jewelers Ltd
Indian G&J exports to the Middle East region accounted for US$ 12.22 billion in 2019.
Bollywood star and DJWE brand ambassador Sonam Kapoor seen with Indian Ambassador to Qatar Shri P Kumaran (on her rt) and K K Duggal of GJEPC (on her lft) after inaugurating the India Pavilion at the Dohan Jewellery and Watch Exhibition 2020
News Source : gjepc