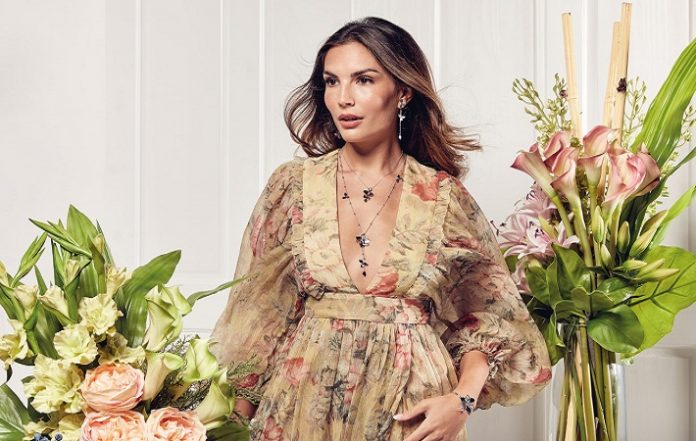 There's been a debate going on in the UK jewellery industry about the performance of silver and branded jewellery, with many being quick to write it off, while others have seen sales soar.
A conversation with retailers this year though provides a clearer picture. Silver jewellery is actually having its time to shine again as consumers look for affordable products for gifts or self-purchases.
In fact, there's a divide. During political and economic uncertainty, shoppers who can afford to are raising the bar and moving into gold and fine jewellery, while others are being more careful with their spending and opting for goods crafted in a more affordable precious metal.
For the latter, silver jewellery – branded or not – is a strong pull.
The growth may be steady, but it's there, and if the right products are in the store windows, silver jewellery is an area of the market that could prove even more valuable to retailers than ever before.
"So far, our silver jewellery brands are performing better than they have done in previous years," shares sales and marketing director at award-winning independent jewellery boutique David Mellor Jewellers, Amy Mellor. She continues: "It's not an extortionate increase, but certainly a monthly increase which is good to see, whilst also not detracting from our fine jewellery sales."
"Silver has been performing very well," says Jo Stroud, the owner of fashion jewellery retailer, Fabulous. "In fact, we have seen a real dip in non-silver brands such as Nikki Lissoni, Alex and Ani and Les Georgettes, and a real upswing in sterling silver brands like Daisy, Life's Journey, Ania Haie and Thomas Sabo. I would say we are definitely seeing a desire from consumers to buy more lasting pieces, rather than fashion items."
For Forum Jewellers, the exit of a Pandora shop-in-shop has provided an opportunity for a broader range of silver jewellery to be stocked in the Poole-based store.
Consumers have reacted extremely positively to this, with customer events helping shoppers engage with the new products and gain confident in the brands.
Independent jewellery retailer, John Pass Jewellers, has seen brands that provide materials which encourage high levels of customer engagement to be the best performers.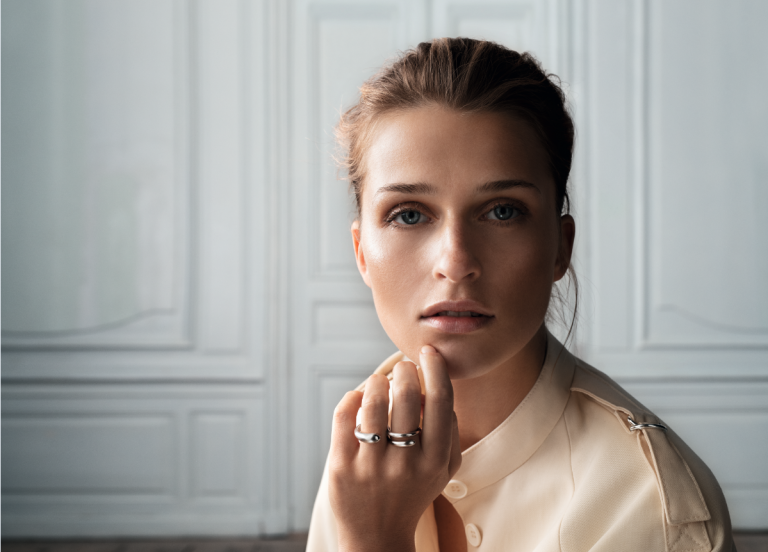 Retail store manager at John Pass Jewellers, Stephen Parsons, explains: "Sales across most brands and price points have levelled out following the last 12 months when most brands had slowed in common with reported trends. The brands which have shown growth are those which have very strong and innovative marketing campaigns, both a good web and physical store presence and great customer engagement such as Clogau and ChloBo."
On the supplier side, many which stock gold and silver have noted an increase in the sell-through of fine jewellery products, but that's not at the expense of the latter.
"Silver has been performing well this year, but we have also seen an uptick in recent months in gold," explains Thomas Sabo UK managing director, Tony Bjork. "We tend to release our major pillar collections each season in silver, as we know our customers love us for this particular metal, and it really is always the hero for the season."
Daisy London marketing manager, Kiran Mistry, shares with Professional Jeweller: "So far this year our silver jewellery accounts for 50% of sales, so not much change over the years and silver continues to perform the best for us within our wholesale boutique locations. However, we have noticed a massive decline in demand for rose gold hued jewellery, with many now choosing to opt for gold-plated jewellery instead. Our sales of mixed metal pieces have remained consistent."
Kit Heath got off to a strong start this year with the Valentine's collection delivering the jewellery brand's best ever sales for this period.
At ChloBo Jewellery, silver remains extremely popular, especially with the brand's core customer, and Danish brand byBiehl has been seeing growth across all its product categories.
Award-winning designer Lucy Quartermaine has had an incredible year so far, with national jeweller Ernest Jones becoming the latest stockist to sell her silver creations. Sales have been increasing each month for Quartermaine's namesake brand, with new collections being popular with existing retail partners.
During the first four months of the year Sif Jakobs Jewellery has achieved 51% year on sales growth and signed 18 new independent retail stockists.
"Our first half year sales budget is well on track," says Sif Jakob Jewellery's UK sales director, Mark Riddle. "We have had to work hard to achieve this against other silver jewellery suppliers and in very challenging retail conditions. Sif Jakobs' determination to add value through constant innovation and her personal drive have kept the brand at the forefront of the market. Sitting back is not an option if you are an ambitious person and an ambitious brand. Recent developments with our three first choice retail multiple partners will come to fruition in the second half of the year."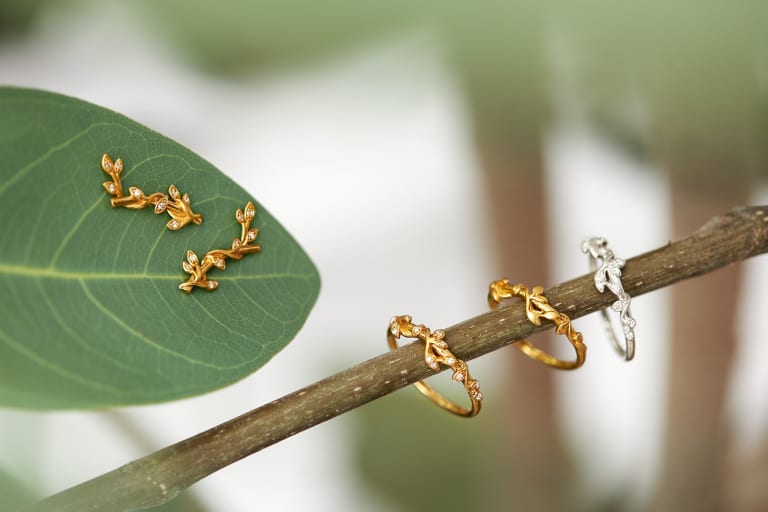 FABULOUS FORECAST
In terms of what has been selling in the silver jewellery market this year, there have been a mixture of trends taking the spotlight. For example, Sarah Layton Jewellery, an independent jewellery retail business which has been consolidating its fashion/silver jewellery offer over the past 18 months, has seen several styles dominate this year.
Director of Sarah Layton Jeweller, Lauren Holmes, reveals: "We've seen a move towards cleaner lines, and slightly heavier, statement necklaces and bracelets. Multi-earring looks have been selling well too —climbers, cuffs and jackets. We've also seen an increase in popularity in natural gemstones set in silver with/without gold vermeil, and celestial-inspired jewellery — lots of zodiac pendants and charms, moons and stars."
As stacking and layering continues to be a popular trend in the UK, jewellers have been noting a spike in sales of more delicate jewels over the last six months, with seasonal details catching the consumer eye as they invest in pieces they can mix and match with what's already in their jewellery box.
This has led to a rise in colour-adorned products at the start of 2019, as consumers get summer ready, and a nod to nature motifs. For AW19, stars shine bright, with celestial themes set to dominate the market over the next few months leading up to Christmas.
For everyday wear though, simple pieces that can be mixed and matched easily are a firm favourite.
Daisy London's marketing director shares: "Without a doubt our bestsellers are all from our AW19 collection, Stacked. This collection brings the ultimate, basic accessories that are simple and perfect to wear in tandem with our other coveted collections."
"Over the last six months, we have seen an increase in popularity for more delicate and dainty designs" adds jewellery designer, Lucy Quartermaine. She continues:
"We have definitely seen a higher demand for layering designs such as our chokers and long pendants."
Plated products has been on the rise for quite some time now, and it appears this trend is still going nowhere as consumers see mixing metals as an opportunity to curate their own style.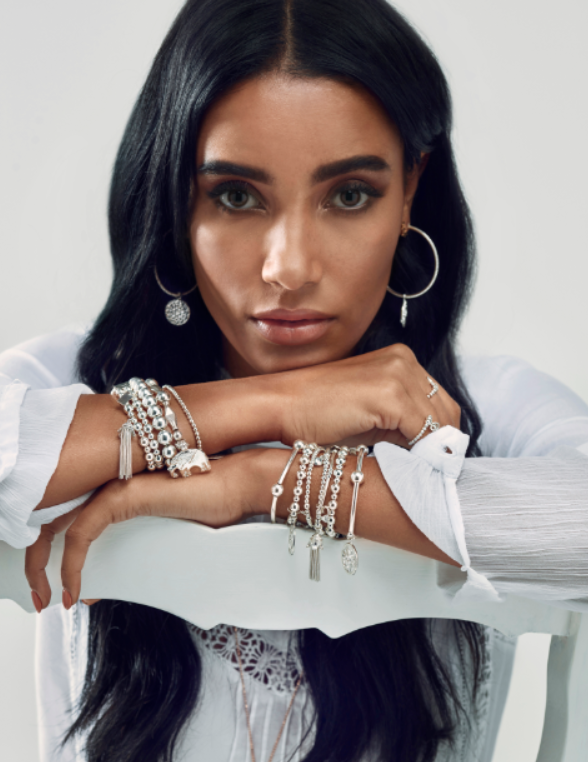 "We've started to see people really experiment with mixing gold and rose gold in with their sterling silver pieces," shares ChloBo founder, Chloe Moss. She adds:
"Our mixed metal range is another firm favourite for us, especially for those customers who aren't necessarily brave enough to rock a bold gold or rose gold stack.
This makes our mixed metal products the perfect stepping stone."
Originality is also key at the moment, with shoppers looking to purchase things that feel unique to them and represent an aspect of their personality.
Young consumers in particular don't want to feel like they are wearing something every other girl has.
John Pass Jewellers retail store manager, Stephen Parsons, says: "Brands which have originality are attracting spend. Les Georgettes is a good example of this as it gives multiple looks in one piece and has a wider product range.
"Customers seem to want to spend on something they don't feel they will see everyone else wearing."
Thomas Sabo's UK boss adds: "We have seen a trend for both classic pieces, as well as coloured stones, mixed with silver to give the pieces a different feel. For us it is always about looking at how we can bring something new to the consumer, and fresh, so we also try to make trends as well as follow them."
In terms of product categories, retailers and suppliers are seeing an increase in demand for hoops of all shapes and sizes.
"Hoop earrings continue as an absolute key trend," shares Fabulous owner, Jo Stroud. "In one brand – Ania Haie – we have sold 12 different designs of hoops this year, in sterling silver and gold-plated silver, clearly demonstrating that there is a different hoop for everyone. This trend has continued with brands like Thomas Sabo and our own Life's Journey brand."
Stroud has also noticed a rise in consumers opting for fashion pieces with powerful messages, with her own jewellery brand Mantra offering meaningful designs.
Personalisation will continue to be a trend for the foreseeable future. In the silver sector, engraved products are extremely popular, alongside birthstone and zodiac motifs.
Moreover, when it comes to fashion jewellery, personalised aspects are more of a statement then a subtle addition for British consumers.
Sif Jakobs Jewellery's UK sales director, Mark Riddle, sums up the current and emerging trends as follows: "The trends from the last six months look like rolling forward to the end of 2019 and most into 2020. More vibrant hues of colours, organic shapes, chain links, long earrings and classic single colour zirconia on 18 carat yellow gold plate. More adventurous party wear will come into play and here the value for money offered by silver and zirconia jewellery always scores highly."
INNOVATION STATION
No matter how long a style stays popular, or a trend doesn't leave the market, to move forward and attract new customers, brands and suppliers must continue to innovate.
Gone are the days where companies can rely on 'classics' to sell, especially when customers are looking for originality more than ever before.
"We always look to see what techniques we can bring to the market, which make beautiful pieces of jewellery," explains Thomas Sabo MD, Tony Bjork. "From introducing lacquer a few seasons ago, which was a first for us, to taking risks with bold colour choices on our designs. We try to be innovators in our field, always."
Buckley London design director, Christina Lenihan, adds: "Up until AW19, our silver-plated collections have been designed around more classic profiles, detailed with crystals and cubic zirconia, offering a timeless range of products. The upcoming season sees the use of more contemporary styles across our silver range, with the inclusion of semi-precious stones and mixed plating for added detail. For future collections, we are looking at ways to incorporate a multicolour theme into our products, aiming to provide our customers with versatile pieces that can effortlessly be worn from day to night, with every outfit, for every occasion."
For Georg Jensen, a brand which is steeped in history but continues to stay relevant in today's market, collaborating with other designers helps keep designs fresh and captivating for new and old customers alike.
The brand's chief creative officer, Nicholas Manville, tells Professional Jeweller: "After over 100 years of experimentation in silver jewellery, we continue our tradition of inviting new designers into our house to create positive creative tension. They challenge us to new heights by testing the limits of the material with new ideas. That has been our tradition and will be our future.
"We are feeling very positive about 2019. Last year, we launched Offspring by London-based Jacqueline Rabun, which was our strongest launch in our history and its momentum continues to grow. Mercy, an additional collection by Rabun, was launched in February and is on track to mirror the success of Offspring. So we now have two new collections we feel will be future icons of Georg Jensen."
Alongside creating innovative products, finding new ways to engage consumers and immerse them in an experience is just as valuable.
For some, this will be making sure all the touchpoints a brand can be found provide a seamless and recognisable experience, while for others it will be launching initiatives close to the customer's heart.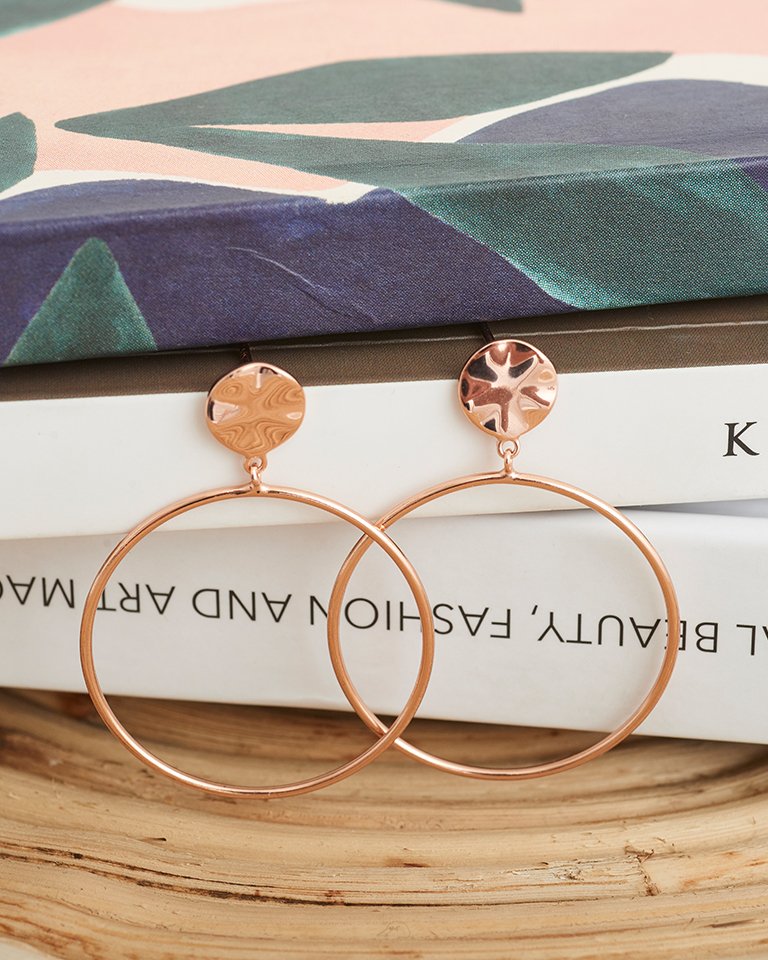 Kit Heath founder and creative director, Katie Nickell, adds: "Inspired design is always at the forefront, but as important is the balance between the hands on, in-store and eyes on, online brand experience. Consumers deserve to be as delighted by the brand and its stories in the real world as they are in virtual world."
Founder of Danish brand byBiehl, Charlotte Biehl, shares: "We have always tried to add something extra (value) to all our collections. With the Jungle Ivy collection, we offer the consumer to put action into their wish on taking care of the planet. We really hope to create awareness about our shared responsibility to take care of the planet, and looking at how popular this collection has been so far, I think that this is what the consumers are looking for right now."
Alongside planting a tree for every purchase of the Jungle Ivy collection, byBiehl also supports retailers by boosting brand awareness, partnering with local influencers, and putting on in-store events.
Helping to create a customer experience and engage with shoppers on the next level is the kind of support retailers are looking for from brands and suppliers these days.
They want information which will help add extra value and marketing materials that will set them apart on the high street and the competitive World Wide Web.
Really, there's no reason why the future shouldn't be bright for silver. It's a mental that will continue to shine not matter what the economy is doing.
There will always be a market for people looking for jewellery that they can use to accessorize outfits and create looks, and this precious metal has long provided shoppers with high quality, but more affordable, gifts.
Katie Nickells of Kit Heath Jewellery remarks: "We think there is continued potential for silver jewellery as its entry costs are low in comparison to other precious metals, and gold plated versions help to make that bridge to 'demi fine' which is now recognised by most customers.
"Pressure on customers spending power and a realisation that they can 'get the look' at affordable price points will drive this market."
"Silver jewellery will always have a place in our store, as it is at the right gifting price point," adds the director of Sarah Laton Jewellery. "Perhaps mass-produced silver jewellery will decrease its market share as consumers are becoming more concerned with provenance and sustainability. Jewellery is definitely more of an extension of a person's wardrobe and personality than ever before."
News Source: professionaljeweller