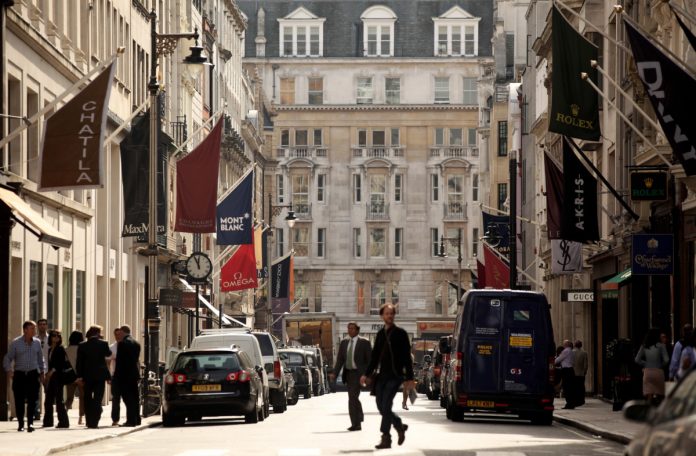 Samantha Dover, a retail analyst at award-winning market research provider Mintel, reveals key insights from the latest Jewellery and Watches Retailing report, and unpacks what the next 12 months will look like for UK jewellers…
The UK jewellery and watch market looks set to become increasingly challenging. Prices are rising and domestic demand is softening as a result. However, Mintel's latest Jewellery and Watches report finds that one in four UK consumers plan to spend more on jewellery and watches in the next year.
So, how is the market set to perform and which opportunities are emerging?
The ongoing impact of Brexit on the market
The UK jewellery and watch market has continued to perform well. According to Mintel data, retail sales increased in 2016 and we estimate that this growth accelerated in 2017. Inbound tourism has had a significant impact on the market in the last year as overseas consumers headed to the UK to make the most of favourable exchange rates, and sales of high-end products were driven as a result. However, as domestic demand appears to be softening, the market looks set to be increasingly challenging going forward.
The rising costs that many UK retailers will face as a result of a weakened sterling will almost inevitably be passed onto consumers in the near future. As consumers are also faced with increasing pressure on their income, they are expected to become more discerning. This will likely make the market more price-sensitive.
Whilst demand for precious metal has been resilient in recent years, this could be impacted as the tendency for people to trade up for investment pieces may slow.
The precious metal market benefits from high levels of both gifting and self-purchasing. As such, the fluctuations in demand for precious metals make the gifting market vulnerable. Consumer research for our latest Jewellery and Watches report found that one in three consumers in the UK bought precious metal as a gift for someone else in the last five years. This confirms how important gifting is to the market.
Multiple key players reported that Christmas 2016 was tough and many anticipated that 2017 would be similarly challenging, signalling that the seasonal events may be even more difficult going forward. As consumer confidence dips, people may begin to trade down to lower-value products when gifting, which would have a significant impact on the value of the market.
In the future, retailers will need to work increasingly hard to encourage higher-value purchases. This means additional services to bolster customer experience will be increasingly important, particularly for those operating in the mid to high end of the market as this is set to become increasingly challenging as more retailers target this market. Personalisation will be key, with 35% of jewellery and watch consumers stating that they are willing to spend more on jewellery that can be personalised, with this figure even higher amongst young people and male consumers according to Mintel research.
What are the opportunities in the market?
Online is fast becoming an increasingly important channel for retailers. Mintel research indicates this is also true for jewellery and watch retailers, with a rising number of jewellery and watch consumers choosing to shop online. The shift towards online purchasing in the UK, with online sales continuing to account for a bigger proportion of retail every year, is likely to have a significant impact on the jewellery and watch market in the future.
Despite a number of the leading players suggesting that growth in online sales is outpacing total sales, we have seen limited innovation in terms of online proposition.
Many retailers are missing out on a key opportunity with social media. As Mintel's latest Social and Media Networks report found, 84% of UK consumers have used a social and/or media network in the past three months. Furthermore, consumer research for our Jewellery and Watches report found that one in four consumers have bought jewellery and/or watches after seeing something on social media, rising to 41% of 16-24s. These points confirm the importance of communicating with consumers via social media.
With a growing number of consumers not only buying online but also researching online ahead of purchase, it is important for jewellery and watch retailers to identify whether they are price or experience driven.
The jewellery and watch market is set to become increasingly price-sensitive, with consumer confidence falling alongside rising prices in the market. As such, it will be challenging for retailers to compete in terms of pricing.
However, this gives retailers an opportunity to compete in terms of retail experience. As Mintel's Experience is All Trend highlights, retailers' over-emphasis on speed, convenience and price has led consumers to crave experiences in bricks-and-mortar spaces and physical places. Although this is a trend that has become relatively mainstream in the fashion sector, with multiple clothing retailers increasingly investing in technology, additional services and events to bolster store experience, it has seen limited investment from the leading jewellery and watch retailers in the UK. This is despite real potential for similar initiatives to resonate with jewellery and watch buyers.
According to Mintel research, one in four consumers are interested in attending in-store events at jewellery and watch retailers, rising to as many as 42% of older millennials aged 25-34.
Finally, the tendency for people to research online ahead of purchase is likely to drive demand for more than just lower prices. We also expect it to boost demand for provenance.
Awareness of the social and environmental impact of jewellery has been limited to date. However, people are becoming increasingly aware of the provenance of their fashion purchases and the jewellery and watch market is not immune to this trend. Beyond the two in five consumers who want more information on which jewellery is ethically sourced, 42% also want retailers to sell more ethically sourced jewellery. As Mintel Trend Moral Brands discusses, consumers no longer need to spend time or money being ethical when the brand can do it on their behalf. As such, there is a real opportunity for retailers to boost the customer loyalty by offering them more information on ethically sourced jewellery and watches.
Mintel's Jewellery & Watches Retailing UK 2017 report is available to purchase, priced £1995.
Samantha joined Mintel in 2016, analysing and writing reports on the retail sector. Prior to joining Mintel, Samantha worked as a Fashion Analyst for EDITED, a retail technology company specialising in data software. Here she worked on the company's retail data analytics, trend forecasting and runway coverage. She has a BA (Hons) in Fashion Marketing from Northumbria University.
News Source : professionaljeweller.com