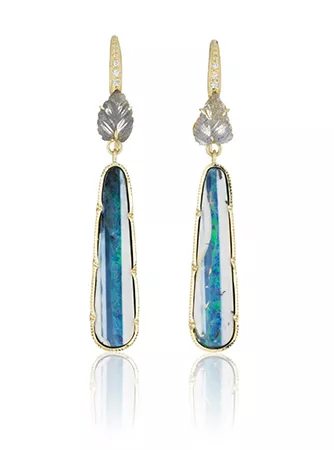 Colored gems are key for this maker of textile-inspired designs in 18k gold
Brooke Gregson's background in geology, art history, and textile design has given her fine jewelry a must-touch texture and a stunning colored-stone focus. Since 2004, Gregson has been honing her "modern organic" aesthetic complete with "a hammered-brushed finish to mimic the surface of the moon and using gemstones as an analogy of something greater, like the stars," she says with her Astrology collection in mind. Metalsmiths in the U.S. and U.K. bring her sketches to life in 18k gold (though silver styles are also in the works) through hand-forging or casting. Stone choices are rich in "inclusions and painterly colors such as Australian boulder opals, raw diamonds, and gems like sapphires that show their internal matrix," she adds. Of particular pride: a proprietary button enclosure for woven gemstone designs. Gregson earned a runner-up nod in the 2016 Couture Design Awards for colored stone designs under $25,000.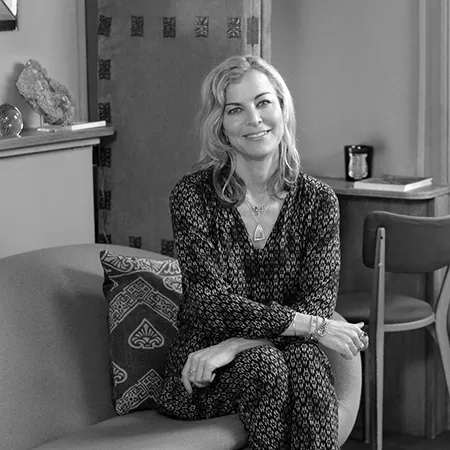 Jewelry designer Brooke Gregson
Starting retail price: $450 in 18k gold
Accounts: 12 in the U.S., including Voiage in Los Angeles; and 15 abroad including WHITE BIRD in Paris and H.P.France in Tokyo
Trade fairs: Couture
Retailer buy-in: None
Contact: Brooke Gregson, Los Angeles; 310-309-0674; brookegregson.com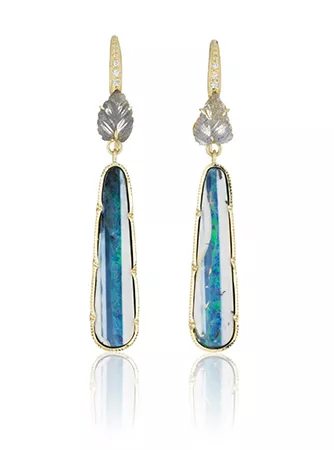 Barrigan Matrix earrings in 18k gold with 13.6 cts. t.w. boulder opal and 1.73 cts. t.w. labradorite, $8,275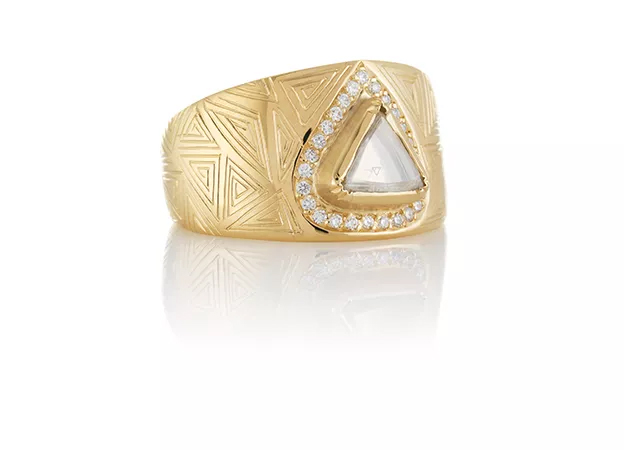 Hera Engraved Triangle ring in 18k gold with 1.17 ct. macle diamond and 1.35 cts. t.w. diamonds, $12,300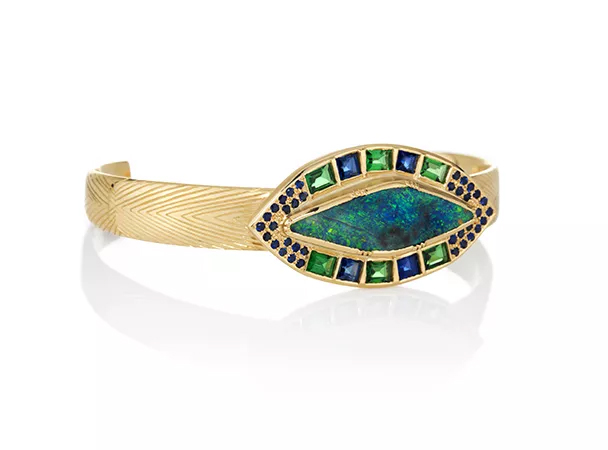 Barragan Talisman cuff in 18k gold with 6.64 ct. boulder opal, 1.31 cts. t.w. emeralds, and 0.9 ct. t.w. sapphires, $22,500
The Style 360 blog is your editorial source for the newest jewelry, trends, market analysis, trade show insights, designer profiles, and more.
News JCKOnline.com