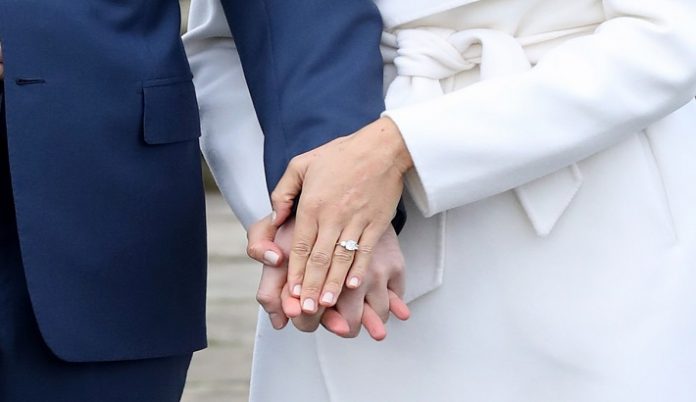 The Duke and Duchess of Sussex commissioned Cleave and Company to create Meghan Markle's engagement ring, and the royal couple's wedding bands.
Predominantly specialists in the design, manufacture and supply of insignia, Cleave and Company have a clientele which includes heads of state, palace offices and military institutions throughout the world.
Ten years ago, the British jeweller's association with the Royal Household was publicly acknowledged by the grant of HM the Queen's Warrant as 'Manufacturers of Insignia', and in 2009, by the further grant of HRH The Prince of Wales Warrant as 'Medalists'.
The Royal Warrant holder's core business involves the manufacture of honours and associated chancery items, but the company also has the capability to produce presentation giftware, from simple silver desk accoutrements and enamelled pens to the most lavish and intricately designed centrepieces.
Based in Buckingham Place London, Cleave and Company's workshops are a unique fusion of past and present. Traditional goldsmithing skills and a passion for excellence in every piece stand alongside cutting edge technology and a determination to discover how new technology can extend the boundaries of the art.
Cleave and Company's workshop skills enable the British jeweller to supply the finest quality pieces handcrafted in noble materials such as gold, silver and vitreous enamels. Gem-setting is also a speciality for the company, which uses diamonds, sapphires and other precious stones to enhance designs.
At present, Cleave and Company are best known by the nation for creating Meghan Markle's engagement ring, and the newly-weds wedding brands and the jeweller has been reported saying the media attention has been a "bit of a shock".
Cleave and Company director Stephen Connelly told Professional Jeweller at the time of royal couple's engagement: "Cleave & Company are greatly honoured to have been of service and we wish Prince Henry and his fiance the very best."
Prince Harry designed the engagement ring himself and commissioned the British jeweller to create the bespoke, three-stone piece.
The central diamond adorning the gold band is from Botswana (where the couple recently went on holiday), while the two outside stones are from Princess Diana's personal collection.
For the wedding bands, Meghan Markle's ring has been fashioned from a piece of Welsh Gold, gifted by Her Majesty The Queen, and Prince Harry has a platinum band with a textured finish.
Cleave & Company has vowed never to make a replica of the Duchess of Sussex's engagement ring, but the same can't be said for other jeweller firm's which have been creating doppelganger pieces ever since the design was revealed.
Today, consumers can by anything from an affordable fashion version of the ring, to a diamond-adorned replica to wear as their very own engagement ring. However, no-one's will ever have the same value as the original piece adorned with diamonds from Princess Diana's personal collection.