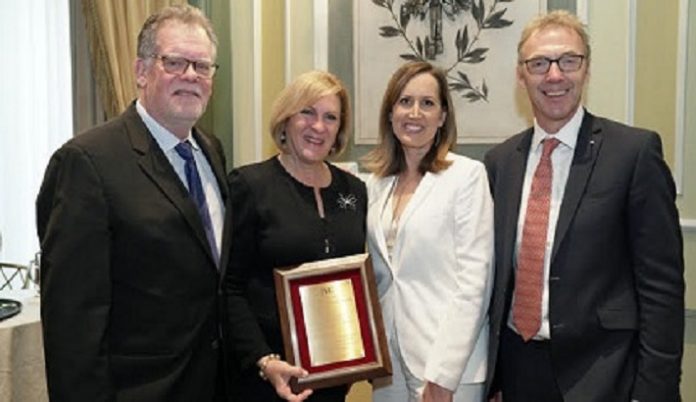 The Jewelers Vigilance Committee (JVC) recognized GIA (Gemological Institute of America) President and CEO Susan M. Jacques with the Stanley Schechter Award at the organization's annual meeting and luncheon in New York City on Jan. 10, 2020. The award recognizes recipients for their tireless dedication, hard work and support of JVC's mission to maintain ethics and integrity through legal compliance, thus elevating the jewelry community's reputation in the U.S. and worldwide.
Joel Schechter, retired chief executive officer of Honora, the company founded by his father, for whom the award is named, presented the award to Jacques.
"Susan is a true industry treasure who deeply embodies Stanley's core values of integrity, hard work, commitment and industry involvement," said Schechter. "Her constant striving for excellence has not only been a gift for GIA but for the industry, and we are blessed to have her at the helm of what is arguably our most important entity. Congratulations and well deserved!"
"It is a distinct honor to be recognized with this coveted award," said Jacques. "Stanley Schechter reflected the best in all of us – integrity, ethics, high morals and a genuine concern for others."
Jacques continued, "As we embark on digital transformations to stay relevant, we must remember that the fundamentals of our business have not changed. We are all in the business of passion, emotion, love and – most importantly – trust. As Warren Buffett told me when he asked me to be CEO of Borsheims Fine Jewelry, it takes years to earn your reputation and only minutes to lose it."
JVC established the Stanley Schechter Award in 2002 to pay homage to Stanley Schechter's legacy of integrity and courage, and to acknowledge his contributions to the JVC and the jewelry industry for more than 50 years.
Jacques was appointed GIA's president and CEO in January 2014. Before joining GIA, she served as president and CEO of Borsheim's Fine Jewelry and Gifts in Omaha, Nebraska for 20 years and reported directly to Warren Buffett. She received the Women's Jewelry Association's Lifetime Achievement Award in 2010 and was inducted into National Jeweler's Retailer Hall of Fame in 1997. Ms. Jacques joined the GIA Board of Governors in May 1996 and served as chair from 2008 to 2013. She received her Graduate Gemologist diploma from GIA in 1980 and is a fellow of the Gemmological Society of Great Britain.
Established in 1917, the JVC provides legal education and compliance guidance to the jewelry industry on the complex laws that apply to the manufacturing, advertising and sale of jewelry.
News Source: diamondworld