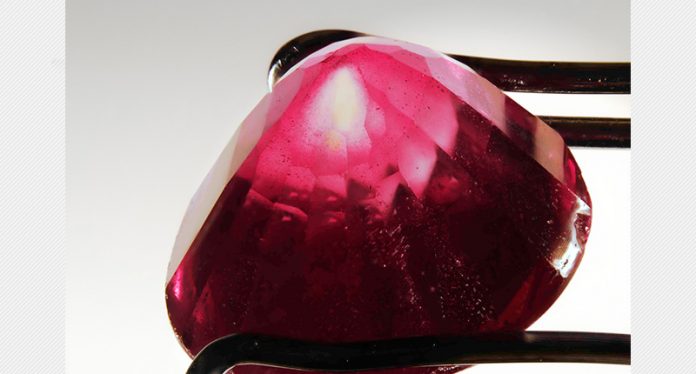 Carlsbad, Calif.–The Gemological Institute of America's New York lab recently had a gemstone submitted for identification it hasn't seen before.
According to an article by Tyler Smith and Hollie McBride in the winter 2017 issue of "Gems & Gemology," the lab received two loose oval mixed-cut red gems for identification. Upon testing, the stones revealed refractive indices slightly higher than normal for corundum.
Higher refractive indices have been reported before for chromium-diffused corundum, in which extra chromium is added during heating to enhance the color. So, the article states, to the naked eye, the stones simply appeared to be chromium diffused and displayed red color concentrations at the intersections of the facets.
But further microscopic examination revealed a thin layer, about 0.3 mm thick, of "synthetic overgrowth"—a layer of lab-grown ruby that gave the stone its color—with a natural, almost-colorless sapphire at the core.
The authors said the two stones looked similar to Lechleitner synthetic overgrowth emeralds, named for Johann Lechleitner, who pioneered the process of giving a near-colorless beryl seed its green color with a synthetic emerald overgrowth in 1960. (The GIA's lab in Carlsbad, coincidentally, received a Lechleitner emerald for identification around the same time the rubies were submitted.)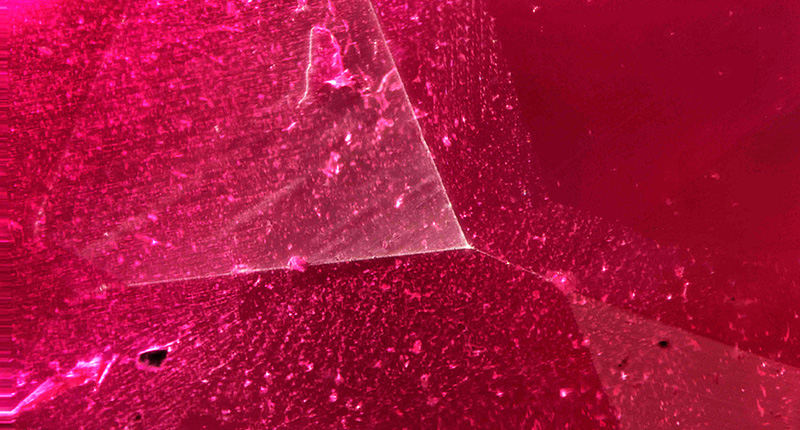 Lechleitner also experimented with ruby overgrowth on both synthetic and natural corundum seeds.
While his specimens contained a number of elements, the two rubies submitted to the GIA were missing one—molybdenum—indicating there were different growth conditions present, according to the G&G article.
It noted that while this isn't the first report of synthetic ruby overgrowth on natural sapphire seeds, it is the first time material featuring such aspects has been submitted to its New York and Carlsbad laboratories for identification.
"The resurfacing of these vintage overgrowth synthetics shows that once a material is in the trade, it is here to stay," Smith and McBride said.