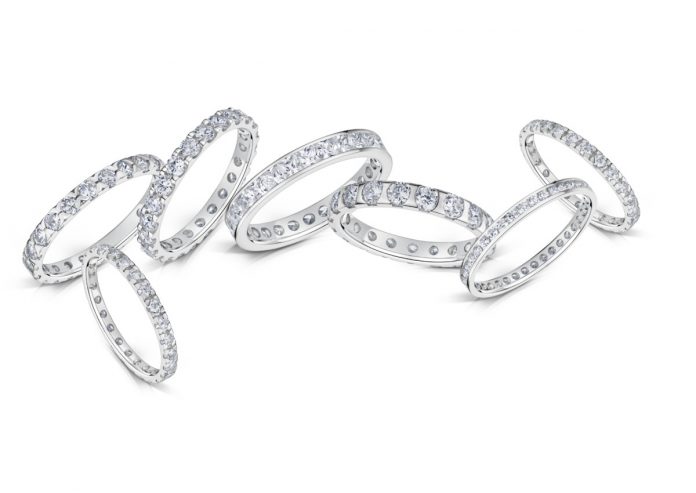 Eternity rings are no longer only being purchased as a sign of commitment, but to mark special occasions and friendships as well.
According to a new survey by jewellery retailer Goldsmiths, which questioned 2,500 people across the UK, the role of the eternity has evolved.
Traditionally, the classic eternity ring signifies the ongoing commitment from a husband to a wife following ten years of marriage, or the celebration of a first-born child. However, research has revealed the iconic jewellery item has evolved into something quite new; now gifted for diverse reasons including work promotions, friendship or even as a gift to oneself.
The report also revealed high demand for eternity rings from men – with 43% admitting they would like to receive one, and a quarter already wearing one.
Executive director at Goldsmiths, Craig Bolton, comments: 'It's fascinating to get an insight into the UK's thoughts around eternity rings – when they are gifted and why. We've seen that although people still gift them on wedding anniversaries, the younger generation is now purchasing the ring for friends, or even themselves. It's also nice to see that people are still keen to receive these special rings, and hold commitment dear to their hearts.
'We have certainly seen an increase in the variety of demographic of people coming into our stores to purchase an eternity ring, and we couldn't be happier that the people of the UK are happier and more eager than ever to spread the love.'
Other findings in the research include:
Commitment in the City
The most 'committed' regions – where the most people already own an eternity ring and are in a stable and committed relationship – emerged as Sheffield (19%), Glasgow (18%) and Plymouth (17%).
Conversely, it seems the people without an eternity ring are slightly put out about it. The survey revealed Leeds, Southampton and Brighton as the places where people would really like to be bought an eternity ring.
What's in a name?
For the younger generation (16-24), it's known as a promise ring, for the over 40s it's an eternity ring, and for others, it's a celebration ring. Whatever you call it, the eternity ring seems to be having a resurgence, with more and more people interested in buying or receiving one – 58% of the UK to be exact.
Not just for anniversaries
Although 34% of the 2,500 respondents would buy an eternity ring for the traditional reason of a wedding anniversary, it appears as though these rings are not only being given between romantic partners, but also by friends on birthdays (27%) and even to ourselves as a special treat or celebration of an achievement like a promotion at work (24%).
The price of commitment?
The study also revealed that the spend on an eternity ring differs from region to region, but the average price paid for a piece is £389. The lowest average spend is in Yorkshire at £283, while unsurprisingly, London's average spend stands at £580.
News Source : professionaljeweller.com