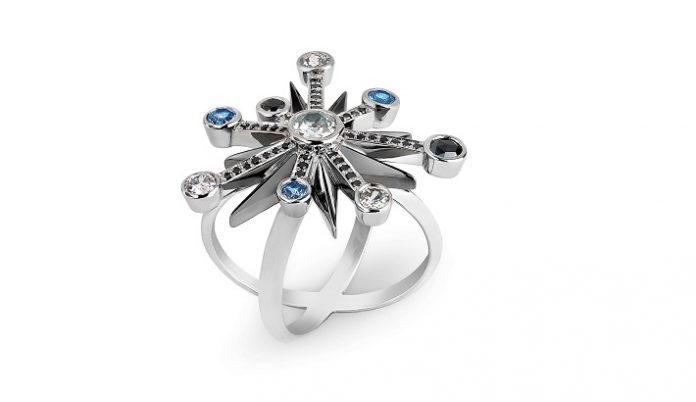 To celebrate the 50th anniversary of the first moon landing, W&W Jewellery has taken inspiration from antique jewellery and atomic post-war design to create an out-of-this-world ring.
Interweaving historical and cosmic influences, the innovative 'Celestial' ring combines a vintage jewellery aesthetic, upcycled old cut diamonds and a contemporary geometric design concept.
Digitally designed and crafted in platinum the ring incorporates a unique double orbit shank below the star burst adorned with old cut diamonds, black diamonds and pale blue sapphires. The sculptural black star draws the focus into the heart of the ring and is black rhodium plated with a steely industrial finish that adds contrast and depth to the cosmic colour palette.
The 3D star burst concept is inspired by traditional Victorian diamond brooches and the distinctive design characteristics of Sputnik.
The finished piece showcases W&W's ability to blend extensive jewellery knowledge, cutting edge jewellery design, and new and vintage materials.
The Celestial Ring by W&W Jewellery is now on display at their Battersea based studio with an RRP of £6,300.
NewsSource: ProfessionalJeweller