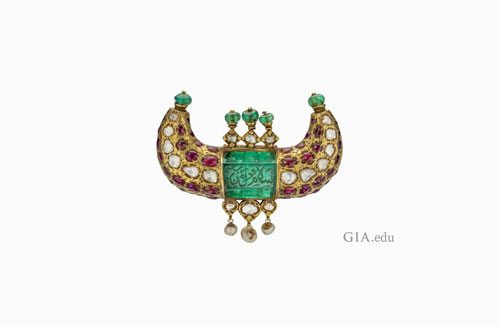 Gemological Institute of America (GIA) will host a unique exhibition of intricately designed 17th to 20th-century jewellery and ornate objects from India at its world headquarters in Carlsbad, California from October 13, 2017 – March 1, 2018.
The display, entitled "Centuries of Opulence: Jewels of India", will showcase 300 years of adornment with 50 lavish historical jewellery pieces and objects, including several from the Mughal Empire (1526–1857), GIA said. The pieces exhibited are on loan from a private collection.
The exhibition explores the often intricate routes diamonds, rubies, emeralds, sapphires and other gems decorating these pieces took from their sources across the globe, according to GIA, which noted that it also delves into their religious and cultural symbolism, the wars fought for them and the historical tradition of gemmology – the study of gems – in India.
Terri Ottaway, curator of the GIA museum, said, "The wealth of gems in each piece gives us a tantalizing look at the lavishness of the royal courts of India from centuries past."
Some of the elaborately designed jewellery served to honour religious figures, while other jewels were integral to the marriage contract, as seen in nose rings worn as tribute to happiness in the union. There were elaborately designed wedding necklaces that depicted snakes or fish as symbols of fertility, and the colours used in enamel – typically on the back of jewellery pieces – functioned as a representation of the forces of life.
Ottaway continued, "The nobility of India traded diamonds from their famous Golconda region for Colombian emeralds, Burmese rubies and pearls from the Persian Gulf. No mine was too remote to access, no ocean was too wide to cross, in pursuit of the very best gems. For the gems not only conveyed wealth and status, but they were also worn as talismans for the protection and enhancement of life. With so much at stake, you begin to understand why wars were won and lost for these treasures."
Pic caption: This gold pendant features a 125 carat Colombian emerald engraved in Arabic with salutations of peace. Set with diamonds, Burmese rubies, emerald beads and dangling pearls, it was made for a ruler of the Kingdom of Mysore.
Courtesy of a Private Collection. Photo by Robert Weldon/GIA
News Source: gjepc.org