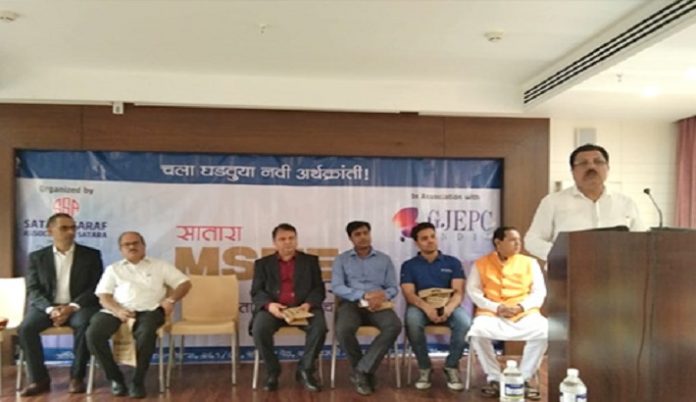 A seminar for artisans, hosted by The Gem & Jewellery Export Promotion Council (GJEPC) in collaboration with the Satara RC Sarafa Association on December 28, 2019 at Satara, was very positively received by the over 100 karigars who attended.
Mithilesh Pandey, Director, Membership, GJEPC gave an introduction to the Council and an overview of its activities, as well as detailed information about GJEPC's Parichay Card and Swasthya Ratna and Swasthya Kosh schemes. Later, Council representative Mrunali Elle provided detailed information about the Mudra Yojana and Prime Minister's Employment Yojana.
GJEPC Consultant Ajit Shah spoke about banking and finance, giving details about the various loans that could be availed of while Praveen More, representative of GJSCI made a presentation on the Government's Skill Development Programmes, with details about the two main initiatives of the GJSCI, RPL and Short Term Training. He explained how those who avail of the RPL training, receive free Accident Insurance cover up to Rs two lakh for a period of three years and a sum of Rs 500 is transferred directly into their account.
A representative of Edelweiss, then gave an introduction to, and explained the process of joining the Swasthya Ratna and Swasthya Kosh insurance schemes.
Earlier in the day, GJEPC and the Satara Sarafa Association also held a similar awareness programme for the jeweller community in the district.
A special session on Hallmarking was conducted by Hemant Aade of the Bureau of Indian Standards (BIS), who spoke about the entire system including locations of hallmarking centres, procedures and costs, etc.
Mithilesh Pandey of GJEPC discussed the schemes of the MSME ministry including Interest Subvention, Technology Upgradation, CFC, Skill Development, Lean Manufacturing Competitiveness Scheme, etc and gave an introduction to the Council and its various activities. He also spoke about the NSIC scheme for financial assistance for participation in exhibitions organized in the country and abroad. Council representative Mrunali EIle also gave detailed information on Pradhan Mantri Rojgar Yojana, Credit Guarantee Fund Trust Scheme, Credit Link Subsidy Scheme etc.
The jewellers were encouraged to start exports from the district level, and the large number present were also made aware of the Rs 1,000 membership category that was expected to be introduced in the coming months.
A representative of D&B, Amar Pratap Singh and his team members gave a detailed presentation on how MSMEs connect themselves to the world and grow their business, while consultant Ajit Shah provided complete information about how to commence exports. Praveen More spoke on behalf of GJSCI, while an official from Godrej, Ratan Thapa made a presentation of the company's security systems and safes, and an official of Edelweiss spoke about the Swasthya Ratna and Swasthya Kosh scheme.
Participants in both seminars received a bag containing a writing pad and pens, sponsored by Kailash Jewellers.
News Source: gjepc