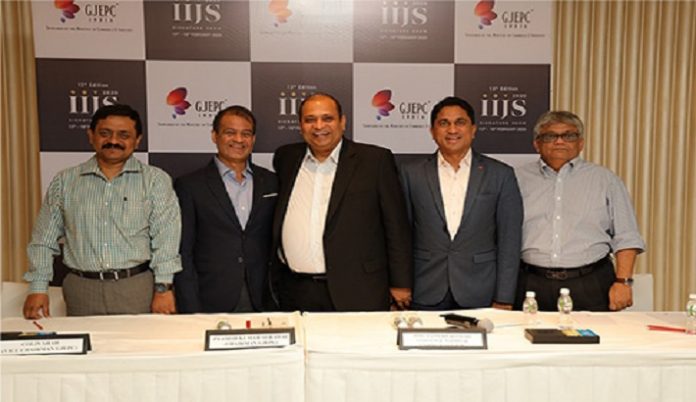 At the Press Conference organised by The Gem & Jewellery Export Promotion Council (GJEPC) on October 16, 2019 in Mumbai (reported yesterday), Convener of the Exhibitions (National) Sub-Committee, Mansukh Kothari made a presentation on the IIJS Premiere 2020 and IIJS Signature 2020.
One important announcement made by Kothari was a special "rate benefit" being offered to members in view of the challenging situation confronting the gems and jewellery industry.
The rate benefits being offered are as follows: Ordinary & Ordinary+ MSME Members — 15%; MSME Members — 10%; Associate Members –5%.
The GJEPC has said that to avail this exclusive benefit, application with 50% advance for IIJS Signature 2020; and 10% Advance for IIJS Premiere 2020 should be submitted by November 20, 2019.
Kothari said, "Our aim is to make IIJS amongst the top gem and jewellery shows in the world. Every year, based on the feedback from the buyers and exhibitors, we have been making the show better by adding new features and facilities. IIJS Premiere sees participation from over 1,300 exhibitors with 40,000 plus visitors from across cities pan India, and 80 countries. IIJS today is reckoned as one of the world's most preferred gems and jewellery shows by the gem and jewellery trade fraternity. Over 8,000 visitors have already pre-registered to participate in this event. The show is also available with navigation on the GJEPC App. I hope the rate benefits would be a relief to our members in this tough time."
He added: "For the benefit and ease of retailers, online visitor registration is open with special rate benefits in early registrations + multi show registration facilities (one show, 2 and 5 shows)."
Kothari also announced that the GJEPC would be introducing a new show for the sector, which would be dedicated solely to the export businesses and will focus only on attracting international buyers as visitors. Kothari said that in due course a special press meet would be held to announce further details of the show.
Pramod Kumar Agrawal, Chairman, GJEPC, commented: "Globally, there's a low demand for gems and jewellery. There are other factors that have affected the business domestically including the rise in import duty of gold. Our move to give rate benefits to exhibitors of IIJS Signature and IIJS Premiere is with the aim to give relief to our member exporters as this industry has been resilient to such situations in the past. This time at IIJS Signature 2020, we are adding a new Hall for Machinery and 100 new stalls for jewellery to accommodate those who were on the waiting list last year. Special buyer promotion programmes will create personalised and better experience to visitors. GJEPC will conduct road shows and door to door campaigns in 100 plus cities. It will facilitate international connect in important countries which will help to grow exports."
Colin Shah, Vice Chairman, GJEPC, said, "Our vision is to grow India's gems and jewellery exports to US$ 75 billion and create an additional two million jobs in the sector by 2025. Over the last couple of years, the industry has been facing challenges which have resulted in decline in exports. GJEPC has been taking initiatives to address this situation and we have joined hands with the Diamond Producers Association (DPA) and are contributing Rs. 14.2 crore towards DPA-led promotion of diamond jewellery in the USA, China and India. We have also allocated Rs.5 crore for the promotion of gold jewellery in the Middle East markets."
He added: "GJEPC has been undertaking a series of initiatives for the sustainable development of the industry. Setting up Common Facility Centres (CFCs), Jewellery Parks, gem & jewellery institutes and promotional activities would help the industry to get back on a growth trajectory. GJEPC has started an employee health insurance scheme called Swasthya Ratna. The total number of lives covered till date are 5,21,659 under Swasthya Ratna. We have also launched the Parichay Card for the benefit of the workers and so far we have received requests for 2,60,950 Parichay Cards from craftsmen and workers from the gems & jewellery sector. Parichay card holders would be eligible for various benefits and schemes offered by GJEPC."
IIJS Signature 2020 will be held in Mumbai's Bombay Exhibition Centre (Goregaon) from February 13-16, 2020.
Pic Cap: Seen at the Press Conference held on October 16, 2019 (frm left) Sabyasachi Ray, Executive Director; Colin Shah, Vice Chairman; Pramod Kumar Agrawal, Chairman; Mansukh Kothari, Convener, Exhibitions (National) Sub-Committee; and Shailesh Sangani, Member, Exhibitions (National) Sub-Committee
New Source : gjepc