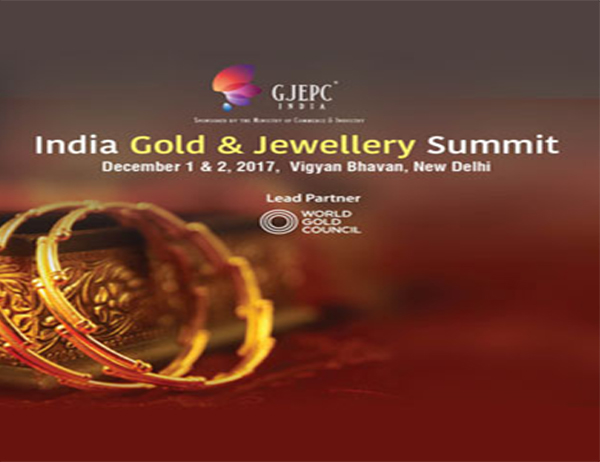 The Hon'ble Union Commerce & Industry Minister Shri Suresh Prabhu will inaugurate the first-ever India Gold Policy & Jewellery Summit at Vigyan Bhavan in Delhi on December 1, 2017. The Summit is being organized by The Gem & Jewellery Export Promotion Council (GJEPC) as a step towards the formulation of a comprehensive gold policy for the country.
The Summit will bring together all the stakeholders from the industry and focus on the current status of, and challenges faced by, the Indian bullion industry both nationally and internationally.
Other dignitaries addressing the Summit include Dr. Hasmukh Adhia, Union Finance Secretary Smt. Rita Teaotia, Union Commerce Secretary Shri Ratan Watal, Principal Adviser, NITI Aayog Shri Alok Chaturvedi, Director General of Foreign Trade Shri Manoj Dwivedi, Joint Secretary, Ministry of Commerce & Industry and others.
Chairman, GJEPC, Shri Praveenkumar Pandya said, "The Summit will also help India seize leadership in gold in the world and become a global hub for gems and jewelry as part of the Make in India agenda."
He added that the GJEPC has put forward a comprehensive package of suggestions to the government in this regard including formulating a comprehensive Gold Policy with one authority reduction of import duty on gold from 10% to 4% with a view to making fragmented gold jewellery sector more organised setting up of jewellery parks and common facility centres setting up of a gem & jewellery university to upgrade managerial skills inclusion of gems & jewellery in MEIS scheme, etc.
The two-day Summit will have a mix of presentations and panel discussions with the participation of members of the trade and representatives of trade associations, banks, related corporate bodies, industry experts, and analysts both from India and abroad.
Shri K. Srinivasan, Convener, Jewellery Panel GJEPC, said, "A comprehensive gold policy framework is the need of the hour. The Summit will discuss and deliberate on how to leverage a best-in-class gold policy in enhancing marketing, merchandising and manufacturing and on the ways to get the public to recycle its jewelry to reduce the nation's reliance on gold imports."