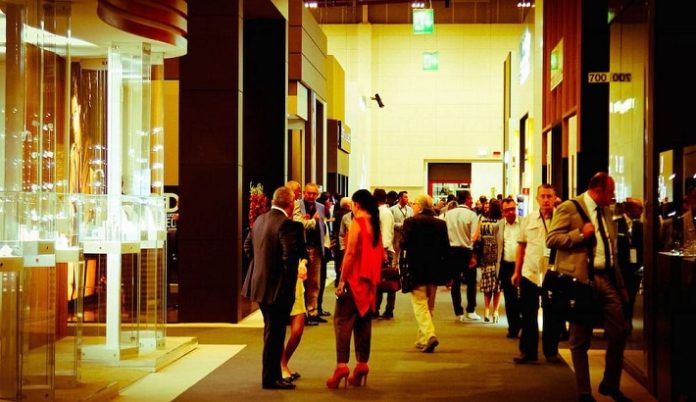 The Gem & Jewellery Export Promotion Council (GJEPC) is hosting a 19-exhibitor strong India Pavilion at the Vicenzaoro January 2019 show, the first show of the global gem and jewellery trade fair calendar, which is being held in Italy from January 19-23, 2018.
Speaking about the India Pavilion at the show, Pramod Kumar Agrawal, Chairman, GJEPC said, "India's total exports of gems & jewellery to Europe accounted for US$ 3.94 billion in 2018. Europe has been an important market for India, and Italy has been an entry point for Europe in general and EU countries. Vicenzaoro offers a perfect platform for our exhibitors to learn and understand the market here and, also come up with jewellery pieces as per the changing trends. This also provides us with the opportunity to enhance our existing trade relationship and create new ones."
The companies participating in the India Pavilion at Vicenzaoro are Ariha Diamond Jewellery Pvt. Ltd.; Core Jewellery Pvt. Ltd.; Estrella Jewels LLP; Fine Jewellery Mfg Ltd.; Indigo Jewellery Manufacturing Pvt. Ltd.; Inter Gold (India) Pvt. Ltd.; Kama Schachter Jewelry Pvt. Ltd.; Patdiam Jewellery Ltd.; Priority Jewels Pvt. Ltd.; Ruta Jewels; Sun Jewels Pvt. Ltd.; The Jewelry Co; Uni Design Jewellery Pvt. Ltd.; Valentine Silver International; Vinayak Jewels India Pvt. Ltd.; Chouhan Enterprises; Sejal Exports (India); Om Shree Gems; and Heeralal Chhaganlal Tank.
The Vicezaoro January show was inaugurated on January 19 by Italian Minister for Regional Affairs and Autonomies, Erika Stefani. The show, organised by the Italian Exhibition Group (IEG) is centered on the theme of "Sustainable Creativity" and will run through till January 23, 2018.
Delivering the welcome address, IEG President, Lorenzo Cagnoni and said that the show had been fully booked well in advance with the participation of the most famous international brands alongside the more recent and emerging companies.
IEG Managing Director, Ugo Ravanelli, highlighted the theme of this year's show: Sustainable Creativity. "At Vicenzaoro, we will be dealing with the theme in all its aspects and throughout the production chain, in line with the vocation of our show which, also, for this reason, is one-of-a-kind in Europe in regards to jewellery," he said.
IEG is also a signatory to the UN Global Compact on Sustainable Development and hence is aligning its shows with the promotion of sustainable and responsible business practices within the jewellery, metals and precious stones supply chain.
Minister Stefani declared: "Vicenzaoro brings with it all the territory's dynamics and ability to promote development and training within the sector."
Other dignitaries who were present at the opening included Silvio Giovine, Vicenza's Councillor for Productive Activities, and Ivana Ciabatti, President of Confindustria Federorafi.
The first day inaugural also saw a panel discussion on the main theme – Sustainable Creativity, moderated by Lauren Kulchinski Levison – Vice President, Chief Style Officer, Curator – Mayfair Rocks, and featuring Lydia Courteille: Scientist, Collector, Gemmologist and Traveler, Lynn Yaege Collaborator American Vogue, Massimo Poliero, CEO of LEGOR GROUP S.P.A., President of the Jewelry Technology Forum and Vice-President A.F.E.M.O. and Paola Ferrari Founder and owner of Nanashapes llC President of the Academy of Gagliato Delle Nanoscienze.
The panellists highlighted that brands with a focus on sustainability have been growing, while 'green' companies have reported increases in exports as younger consumers place greater emphasis on responsible practices.
During the session, a special research report "The Sustainability Imperative" produced by Nielsen was presented. The Study showed that brands with a commitment to sustainability have grown more than 4% as compared to the 1% growth reported by those who don't give it importance.
Similarly, in 2016, medium-sized manufacturing companies investing in green technologies and materials have increased exports in 49% of cases, the report said, as compared to 33% of those that do not invest. Also, their turnover increased to 58% between 2015 and 2016.
The research also indicated that 66% of consumers are willing to pay more for products from companies that demonstrate a social and environmental commitment.
NewsSource: gjepc