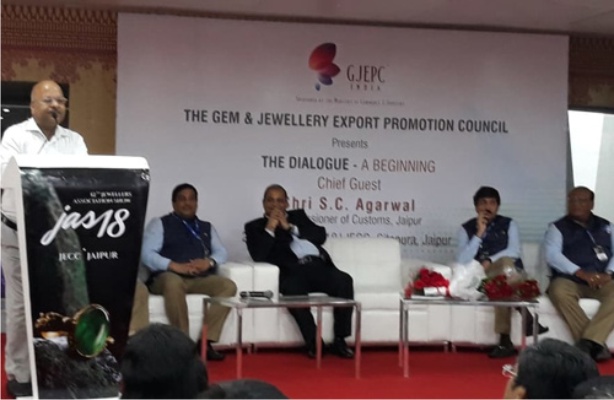 The Gem and Jewellery Export Promotion Council (GJEPC) Jaipur conducted an Open House session with Shri S.C. Agarwal, Commissioner of Customs, Jaipur on "IGST Charged on Reimport Consignments at Jaipur Port". The event, held on September 2, marks the launch of a new platform – "The Dialogue – A Beginning", to facilitate interaction on particular issues of trade with officials of concerned government departments and official agencies such as Customs, GST, Banks, RBI, DGFT, Ministry etc.
Members of the trade apprised Shri Agarwal about the issues being faced and drew his attention a crucial point related to reimport of goods sent abroad on consignment. They said that that a huge amount of the working capital of individual exporters was being blocked as a result of charging IGST on such consignments.
They further pointed out that later this month large inventories will be sent abroad for the purpose of display at the September Hong Kong show. Charging of IGST on reimport of these goods would cause further blockage of additional amounts of working capital, they said.
Instead, they suggested, the Jaipur Customs should follow the procedure adopted by Delhi Customs and ask for an undertaking that refund of ITC was not claimed when goods were originally exported.
Shri Agarwal responded to the queries and promised the audience that he would study the matter further and look at the possibility of implementing their suggestion. He also assured the industry that he would make a reference to the board to consider an amendment to the relevant Notification, which would facilitate reimport of consignments on nil IGST.
Going forward, the Council will continuously identify current issues of the trade and organise similar interactions under this banner.
Last month, GJEPC Jaipur had also launched Gurukul – for sharing information related to specific procedures, processes etc. with members
Pic caption: Dignitaries on the dais at inaugural session of 'The Dialogue'
News Source : gjepc.org