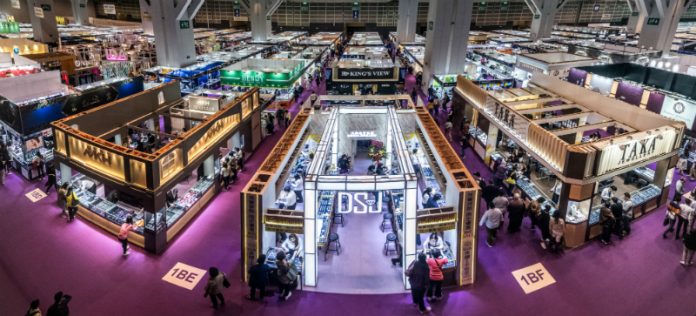 The Hong Kong Jewelry Manufacturers' Association (HKJMA), organiser of the Hong Kong International Jewelry Manufacturers' Show – Asia's key jewellery event in November, is celebrating its 30th anniversary this year.
Running from November 29 to December 2, the show's 2018 edition features more than 1,500 booths and 900 exhibitors from 29 countries and regions. Booths are categorised according to product category, with the show offering all the jewellery and gem trade's requirements, from loose stones to fine jewellery, for ease of sourcing. International pavilions including Thailand, Korea, Italy, the Israel Diamond Institute, Sri Lanka and Myanmar, will play a significant role in bringing jewellery of world-class quality to buyers.
To enrich the buyer sourcing experience and celebrate HKJMA's 30th anniversary, a special themed zone, "Jewelry Party," will make its debut at the 2018 show. It will showcase an expansive variety of party jewellery and feature interactive activities such as the Giant Jewelry Capsule Machine, AR Motion Treasure Game, Jewelry Workshop and charity events. A commemorative publication will be published to celebrate this memorable occasion; the book launch will take place at the welcome cocktail reception. Stay tuned!
News Source : jewellerynet.com