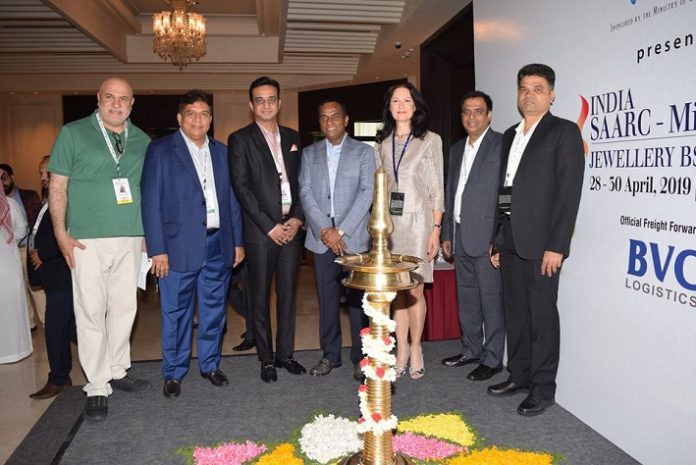 Gem and Jewellery Export Promotion Council (GJEPC), in its endeavour to promote exports of gems and jewellery, organised the 4th edition of India SAARC Middle East Buyer Seller Meet in Chennai. The three-day BSM (28th -30th April) will showcase a variety of Plain gold jewellery and Diamond studded jewellery. Pre-fixed One-2-One meeting of approximately 30 minutes is scheduled between the buyer and seller on the first 2 days and open exhibition on the 3rd day of the event.
Pramod Kumar Agrawal, Chairman, GJEPC said, "The Indian gem & Jewllery industry has successfully catered to the Middle East and Asian countries, offering products as per their tastes and market needs. India has been the preferred sourcing destination for quality gems and jewellery for the world and it has been once again proved by the growth in exports of gold and studded jewellery with exports recorded at USD 12.03 billion in FY19 (up 24.36%) vis-a-vis USD 9.67 billion in FY18. India SAARC – Middle East BSM is an effort to further improve our trade relationship and improve business. Buyers will get to see a variety of plain and studded jewellery including jewellery pieces with filigree work, jewellery studded with precious stones, feather-light weight jewellery, etc."
Post attaining leadership position in cutting & polished diamonds, India is now focussing towards strengthening jewellery exports as this would be the growth sector for the time to come. India's total gem & jewellery exports accounted for USD 40 billion in FY 2018-19. Leading Gem & Jewellery export destinations are Hong Kong (35%), USA (25%) and UAE (25%).
A shining example of 'Make in India', the Gems & Jewellery industry contributes around 7% to India's GDP and 11.99% to Merchandise Exports. It employs a workforce of 5 million (50 lakh). India is the undisputed world leader in Cut & Polished diamonds even though it doesn't have a single diamond mine. India exports 93% of the world's polished diamonds – 14 out of 15 diamonds set in jewellery worldwide are processed in India. One billion stones are polished each year.
"Indian manufacturers have been investing in technology and manpower to create manufactured jewels with skillfully crafted designs and high-end materials that are being sold across international markets. "India's jewellery industry for its ethical business practices. Exporters here undertake business lawfully adhering to all norms and practices, prescribed very diligently," added Mr Agrawal.
Dilip Shah, Convener, International Exhibitions said, "The unique nature and format makes BSMs the most demanding forum to conduct business amongst buyers and exhibitors. I am hopeful that the 4th edition of the BSM will be as successful as others and help further develop trade relationship and augment business. This BSM focusses on Jewellery and has 31 exhibitors from across India with 78 buyers visiting from countries including Algeria, Australia, Bahrain, Bangladesh, Egypt, Fiji, Jordan, Kuwait, Lebanon, Malaysia, New Zealand, Qatar, Russia, Saudi Arabia, Singapore, Sri Lanka, UAE and UK.
India is one of the largest exporters of gold jewellery in the world. It is famous for the unique style of jewellery making in varied styles such as Kundan, Meenakari, Handcarving, Bidri, Temple Jewellery, Filigree Jewellery, Jadau Jewellery and many more. "
With a view to taking this industry to the next level, GJEPC with the support of Ministry of Commerce & Industry, Govt. of India, will be soon setting up a Jewellery Park in Mumbai. This dynamic venture will provide effective support to Jewellery manufacturers/traders who are interested to expand or invest in India to initiate a new business or strengthen their existing business, benchmarking with the Jewellery Parks created in countries like China. Turkey, Thailand, etc. The jewellery park project is estimated to generate direct employment of around 1,00,000 workers.
Over the years, GJEPC has moulded the scattered efforts of India's Gem & Jewellery trade and represented through various promotional initiatives in India and world over. India International Jewellery Show (IIJS), IIJS Signature, India Gem & Jewellery Machinery Expo (IGJME) are few key trade fairs organised by Council in India. It also organises India Pavilions – participation of a number of companies under the GJEPC banner – at various leading international shows like JCK Las Vegas, Basel, Hong Kong, Vicenza Oro, Jewellery Arabia and several others worldwide. Series of Buyer-Seller Meets are planned for the year: India Diamond Week in Shenzhen – China, India Australia Jewellery BSM 2019 – Mumbai, India Diamond Week 2019 (Loose Diamonds) New York, India Gemstone Week 2019 -China, India Diamond Week – Mumbai (Loose Diamond), Kolkata Jewellery BSM, etc. Additionally, GJEPC has also been promoting Brand India across world markets as the ultimate source of jewellery through global campaigns