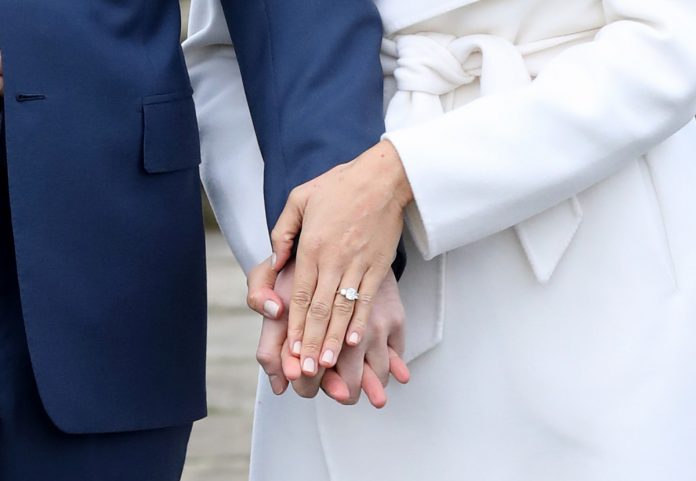 Online retailer Jewlr has revealed its top selling replica celebrity engagement rings with young royals reigning in the style stakes.
While ostentatious, oversized, celebrity styles from Hollywood have fallen out of favour with UK consumers, rings inspired by the recently engaged royals continue to drive sales.
In fact, the online jeweller's replica of Meghan Markle's engagement ring has swiftly become its bestseller, outselling all other styles in April by 20%.
The second top selling celebrity engagement ring is a replica of Princess Eugenie's ring, followed by one which nods to Michelle Obama's classic solitaire.
Also in the top five best sellers is a lookalike style of Kate Middleton's ring, which has seen sales rise by 10% in the last month and sales of blue sapphires up by 30% vs last month, proving that royal mania is on the rise in the UK. A replica of Pippa Middleton's art deco style ring also made the top five bestselling list, rising in sales by 40% vs last year.
Meanwhile, cocktail style bridal designs are down by 50% year on year for the online jewellery retailer.
Jewlr founder, Tony Davis, says of the findings: "It has been interesting to outline the top selling celebrity replica rings and see the royals are having such a strong influence on UK sales. With Kate and Wills arrival and the pending nuptials between harry and Meghan, it's clear to see that royal mania is hitting fever pitch amongst UK consumers at the moment.
"We knew prior to the engagement that Meghan is one of the most influential celebrities for driving our sales in the UK, but it's interesting to see similar styles to those of Kate and Pippa Middleton's rings picking up traction in the last few months. On the contrary, more outlandish Hollywood styles are declining in sales, with Hollywood stars over the top style influence waning in favour of understated classic styles."
News Source : prefessionaljewellers.com