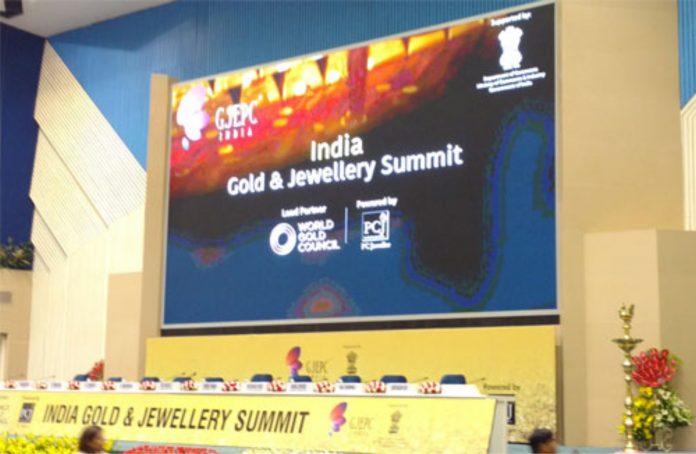 A strong case for a comprehensive gold policy and a centralised Board or regulatory authority for the gold jewellery industry was made out in the second session of the first ever Gold & Jewellery Summit organised in Delhi by GJEPC on Dec 1-2, 2017.
The trade perspective presentations made by P.R. Somasundaram, MD, WGC India and Sabyasachi Ray, CED, GJEPC, made immediately after the inaugural session, not only emphasised this, but also set the context for subsequent deliberations at the conclave which was attended by various stakeholders from the gold and gold jewellery industry from across India.
Somasundaram presented the current, fairly grim realities of the gold jewellery industry worldwide, stating that while gold demand had risen in the last decade, it was driven largely by investment demand, while jewellery demand had actually declined. In India too, over the same period, though demand registered a 14% CAGR by value, in terms of tonnage the CAGR was only 1.2%. Rising prices had actually hampered the demand for jewellery. He however reassured the audience that in the long term the demand in India would still be robust, driven by the need for wedding jewellery and rural demand.
Stressing that in India there was "no single owner for policy coordination", he emphasised that a clear vision and a comprehensive policy were the need of the hour. The four pillars of on which policy should be formulated included a set of standards that would benefit and protect consumers, an infrastructure push to cater to the needs of the organised sector, schemes in the mainstream for liquidity and a strong Make in India programme to boost employment.
Ray turned his attention to what he called the Yo-Yo syndrome that has dominated discussions on gold policy till now. He stressed that over the past years, government and industry have both reacted to changes in the situation without looking at issues from a broader perspective. There was a need to have a clear framework for gold mining and supply, for gold as currency and for gold as a commodity. He divided the history of gold policy into four phases – the first from 1947-63, followed by the controls that dominated between then till the early 1990s. The post liberalisation phase followed when restrictions were lifted and the industry grew, but this ended with the global recession in 2008 when the industry has faced multiple challenges.
At the core of the solutions proposed by GJEPC was the idea of "one regulation, one regulator". Ray stressed the need for a Board that could be a defining regulatory authority, playing a role much like the RBI or even AAI or TRAI, and added that as consumer of 1/3rd of global mine supply, India needed to play a greater role in the global gold industry with a gold exchange and an India Good Delivery. Policy framework could define uniform taxation policies and other prescriptions to discourage the illicit trade as well as to ensure that restriction of imports in times of crisis did not hamper the functioning of the gold jewellery industry which provided jobs to millions and also exported products worth billions
News Source : gjepc.org