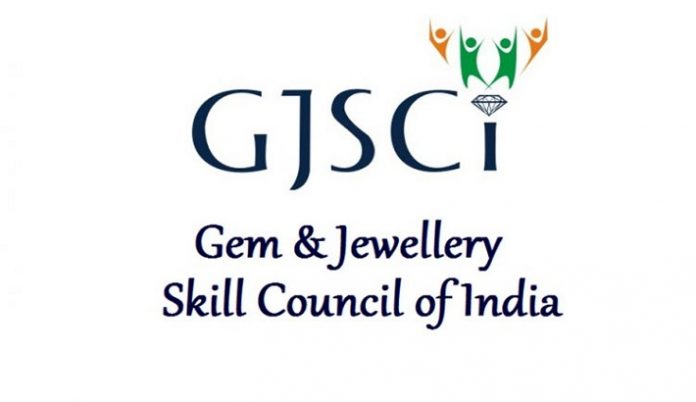 The Gem & Jewellery Skill Council of India (GJSCI) has chosen to focus part of its activity at the ongoing India International Jewellery Show (IIJS) on promotion of some traditional jewellery making crafts from across the country that are in danger of dying out. A section of its booth at the show, demarcated as the Crafts Pavilion, projects three such localised skills, Bidri, Thewa and Gajra, which are still practiced by a few families that have handed down this knowledge over many generations.
All three crafts are on view at the stall with teams of artisans who discuss the intricacies of the art and the manufacturing processes. While Bidri and Thewa are better known, knowledge of the fascinating ornaments that are part of the Gajra tradition in Bhuj in Gujarat were relatively speaking more confined within the region.
The artisans from Bhuj, who are displaying their creations at the stall say that the jewellery, which is large and chunky, is completely handmade from a single wire, with multiple turns, twists and bends. It was popular among the nomadic tribes in Bhuj and surrounding areas, but today there are only a few families who still possess this knowledge and create Gajra jewellery.
The Gajra artisans explain that the jewellery was usually gifted as wedding ornaments and adorned different parts of the body, which they have subsequently realised coincide with different acupressure points! "Nowadays, no one wears such heavy jewellery regularly, so we have begun trying to make smaller pieces which are fashion accessories also," they add.
Sanjay Kothari, Chairman, GJSCI, said that the organisation is trying to help resurrect these skills and draw up plans so that each art gains wider recognition, and brings commercial returns as well.
Last year, a Skill Cum Common Facility Centre was opened in Cuttack to help the artisans with production and marketing of the jewellery for national and international markets. It will impart skills with the aim of making them self-sustainable.
The GJSCI also conducted the Anant jewellery design competition, where students from across the country were invited to present sketches of designs based on three such traditional manufacturing crafts: Hupari Payal from Kolhapur, Maharashtra; Tarakasi from Cuttack, Odisha; Thewa from Pratapgarh, Rajasthan; and Gajra from Bhuj, Gujarat. The response was overwhelming.
It has already created Qualification Packs (QP) for 'Payal Maker' (Hupari) and 'Tarakasi Jeweller' (Cuttack), and offered RPL certification for the same.
Kothari said that the Skill Council is now looking at taking this to the next level, "We are exploring the possibility of inviting the most experienced practitioners of these crafts to conduct demonstrations and courses in jewellery training institutes across the country."
However, his vision is far wider, "With some sustained support the jewellery manufactured through these traditional processes can also add to India's export basket over the next few years," he says, adding, "Perhaps we may try to organise a Crafts Pavilion at the Vicenza show next year to give these unique ornaments some international exposure."
Pic caption: An artisan from Bhuj explaining the art of Gajra at IIJS seen with (from l) Pankaj Parekh, former Vice-Chairman GJEPC, Shishir Nevatia, a leading jeweller who is associated with GJSCI and Sanjay Kothari, Chairman GJSCI.
New Source : gjepc.org