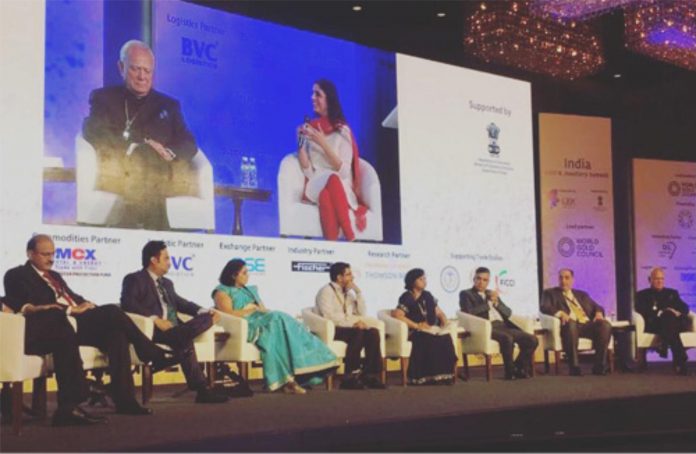 The Ministry of Commerce & Industry (MoC&I), Government of India (GoI), is likely to finalise its recommendations regarding the proposed Gold Policy and share them with the Ministry of Finance by next month, Ms Rupa Dutta, Economic Advisor, MoC&I, said. She was speaking at the session on "Niti Aayog Report: Transforming India's Gold Industry" yesterday, at the 2nd India Gold and Jewellery Summit, organised by The Gem & Jewellery Export Promotion Council (GJEPC) which is being held at New Delhi over November 23rd and 24th, 2018.
While agreeing that there was an urgent need for a unified policy and a single government department to address issues of the trade, many speakers at the same session also pointed out that it was necessary for the industry to move ahead, taking concrete steps wherever possible in specific areas, even before the formal announcement from the government.
Citing the example of the Precious Metals Assaying Institute which they had set up together with support from the industry, Rajesh Khosla, Chairman, MMTC-Pamp and P.R. Somasundaram, MD-India, World Gold Council (WGC) stressed that such an approach would facilitate speedier implementation once the policy is announced. Somasundaram also mentioned the blueprint for a Bullion Exchange that had been prepared after consultation with industry players.
A relevant observation made by Nirupama Soundararajan, Senior Fellow & Head of Research, Pahle India Foundation was that policy only defined a broad thrust or direction, and the process of formulating one was vastly different from specific action- related announcements that may also be proposed from time to time. "These are two distinct processes and need to be clearly separated," she said.
Intervening in the discussion, Praveenshankar Pandya, former Chairman, GJEPC, pointed out that industry growth has been haphazard over last few decades and there was a need for a 360 degree perspective and plan. "This is what China did," he said. "And see where they have reached."
Pandya said that the Indian industry and government need to work together on projects such as jewellery parks, technical upgradation and skill development.
Stressing that the jewellery industry was an unorganised one, Ajay Mehra, FICCI Gems and Jewellery Committee, said that both industry and government need to collect data and grasp the actual realities, while devising policies and plans. "Working as partners rather than adversaries, we can make progress, only if the plans are based on detailed studies," he concluded.
Earlier, during her presentation, Ms Dutta said that the Commerce ministry has already taken a number of initiatives for the industry, including initiating processes to evolve gold standards, lab standards and to establish a Domestic Council to steer growth. "We believe that manufacturing infrastructure needs to be strengthened, and so we have worked with industry to establish CFCs and to take other steps to benefit MSMEs."
In a similar vein, K Rajaraman, Addl Secretary, Ministry of Finance said the department is keen to identify and eliminate all the obstacles and speed breakers the industry may be facing and taking various steps to address these issues. "We are looking at the friction points and are open to suugesstions on how to overcome these," he stated.
Neeraj Kulshrestha, Chief Business Officer Officer, BSE and Shivanshu Mehta, Head – Bullion, MCX, both spoke on their expectations from the proposed new policy; as well as discussed steps that the industry has taken to create conditions for speedy and smooth implementation when it is announced.
Summing up the interaction, Somasundaram said that transformation in the Indian gold industry will take place only when industry and government both play their roles. "An enabling policy will be crucial for sustainable change and growth, but there are many things we should do to prepare the ground for it."
Pic Cap: Panel discussion in progress on Day 1 of the 2nd India Gold and Jewellery Summit
News Source: gjepc.org