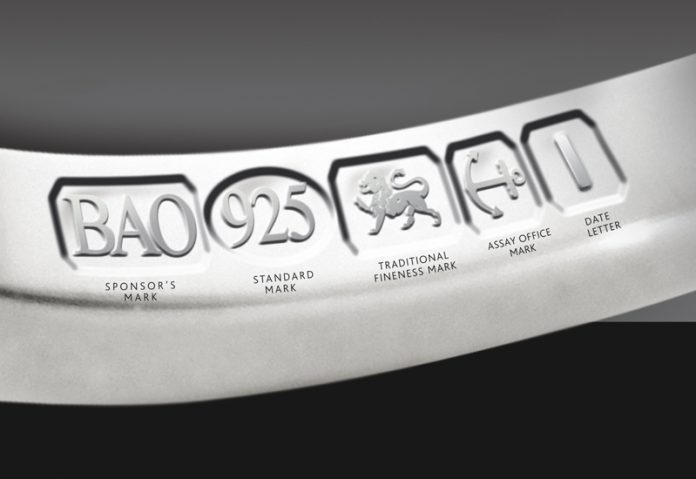 Hallmarking figures compiled by Assay Office Birmingham for November 2017 show a decrease in the number of items assayed compared to the same period in 2016.
Overall, the number of units hallmarked by the four UK Assay Offices in November 2017 was down by 11% compared to last year.
The amount of articles hallmarked dipped for all metals. Palladium fell the most by 31.7%, followed by gold at 12.1%, platinum at 10.1% and silver at 9.8%.
View the fall hallmarking figures here:
UK hallmarking figures November 2017 vs November 2016
Gold
24ct (999) – up 100% (32 items)
24ct (990) – Neutral (19 items)
22ct (916) – up 53.4% (37,787 items)
18ct (750) – up 1.5% (99,355 items)
14ct (585) – up 16.5% (17,226 items)
9ct (375) – down 20.1% (338,118 items)
Total gold items – down 12.1% (492,537 items)
Silver
Fine silver (999) – down 38.0% (1,610 items)
Britannia silver (958) – up 3.2% (1,485 items)
Sterling silver (925) – down 9.7% (537,904 items)
800 parts silver – down 45.5% (6 items)
Total silver items – down 9.8% (541,005 items)
Platinum
999 parts – up 400% (5 items)
950 parts – down 10.1% (35,241 items)
900 parts – up 114.3% (15 items)
850 parts – up 30.0% (13 items)
Total platinum items – down 10.1% (25,274 items)
Palladium
999 parts – Neutral (0 items)
950 parts – down 40.6% (4,697 items)
500 parts – up 98.7% (1,065 items)
Total palladium items – down 31.7% (5,762 items)
Total items hallmarked in November 2017: 1,064,578 – down 11%
News Source: professionaljeweller