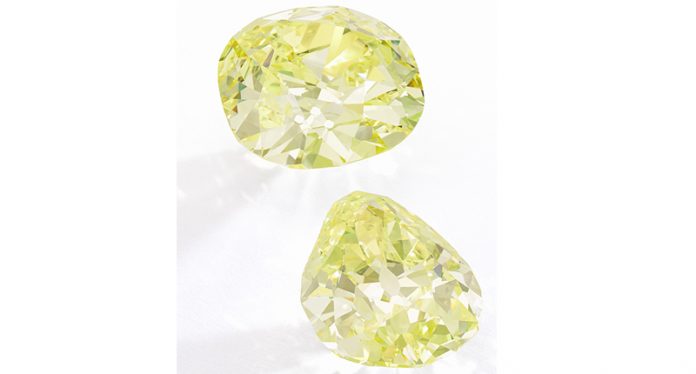 Geneva–Two diamonds once owned by one of the most famous French courtesans of the 19th century will be up for auction next month.
The Donnersmarck Diamonds, a pair of fancy intense yellows consisting of one 102.54-carat cushion-shaped stone and an 82.47-carat pear, will be on the block at Sotheby's Geneva on Nov. 15.
The diamonds will be offered as a single lot during the Magnificent Jewels and Noble Jewels sale (the same sale as the "Raj Pink"), and are estimated to sell for between $9 and $14 million.
The diamonds' backstory is an interesting one, having once belonged to a high-flying Russian-born prostitute and ending up in the collection of her third husband's family after her death, where they remained for more than 100 years.
Countess Henckel von Donnersmarck, or "La Païva" as she eventually became known, lived from 1819 to 1884. She was, arguably, the most famous and successful of the 19th century French courtesans, starting from modest circumstances in Russia and rising to become European aristocracy.
20171026 La Paiva
La Païva, Countess Henckel von Donnersmarck
Born Esther Lachmann, she was married at a young age to a tailor and had a son.
But by the age of 18, she had left that life behind for Paris, where she was quickly brought into the city's cultural and artistic circles by her lover, piano composer and pianist Henri Herz.
It was through this relationship that she was able to establish many friendships with composers and writers like Richard Wagner, Hans von Bülow, Théophile Gautier and Emile de Girardin.
In the late 1840s, she met Marquis Albino Francisco de Araújo de Païva, an heir to two important Macao wholesale fortunes. The two wed in 1851. The marriage lasted only one day but gained her the nickname she would have for the rest of her life, La Païva.
She then met her third husband, Count Guido Henckel von Donnersmarck.
The 22-year-old Peruvian industrialist and mining magnate was one of Europe's richest men, and, according to Sotheby's, was immediately captivated by La Païva's "seductive charms, extraordinary mind and business acumen."
The two became the talk of Paris high society with their relationship, marrying in 1871.
La Païva was, of course, a lover of fine jewels. Though she had already acquired some notable pieces before her marriage to the Count, he helped build her collection to become one without equal, including gifting her the two yellow stones that came to be known as the Donnersmarck Diamonds.
He also provided the funds for her to purchase a plot on the Champs Elysées where she built "L'Hôtel de La Païva."
The building was to be one of the most lavish mansions constructed on the city's famous avenue, featuring a central staircase made of Algerian yellow marble, matching the yellow of the Donnersmarck diamonds. (It underwent a restoration in 2010.)
After La Païva died in 1884, the Count remarried, taking a Russian aristocrat as his second wife.
The diamonds remained in the Donnersmarck family for more than a century until they appeared at auction at Sotheby's in 2007, at the same time the auction house introduced sales dedicated solely to jewels with aristocratic or royal provenance.
At that sale, they garnered nearly $8 million between them and have been in a private collection ever since.
News Source: nationaljeweler.com