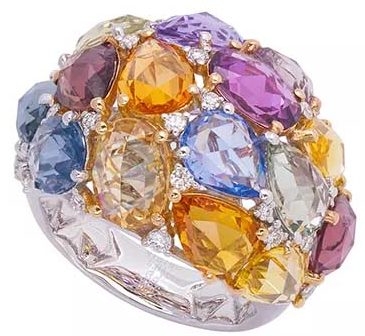 The Pantone Spring 2017 Fashion Color Report serves as an overview of designers' color choices in new clothing collections. The colors are important for jewelers to know so they can help customers successfully color-block accessories. Here are five ways your peers suggest others color-block with Pantone's Primrose Yellow.
"Primrose Yellow sparkles with heat and vitality. Inviting us into its instant warmth, this joyful yellow shade takes us to a destination marked by enthusiasm, good cheer and sunny days." —Pantone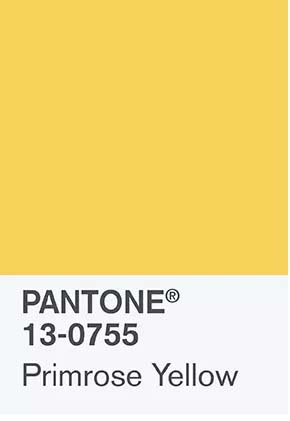 1. Give a Primrose Yellow outfit a jewel with contrasting colors to make a graphic statement.
"The black in the center stone and the accents of spinel create a sort of bumble bee effect that when paired with a garment of this color work well together." —Royal Chain Group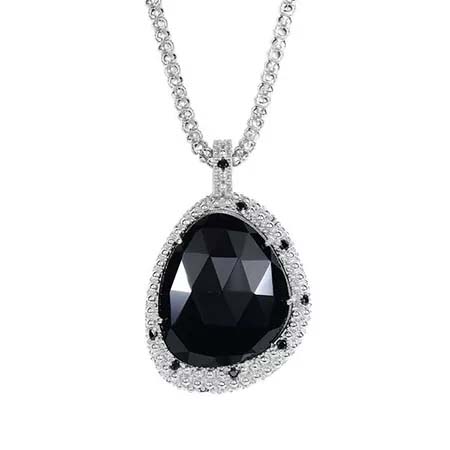 Pendant necklace in silver with a 12 ct. black onyx and 0.06 ct. t.w. black spinel, $386
2. Pair harvest tones with Primrose Yellow to further enhance the warmth of the shade.
"The mustard hint to Primrose Yellow makes a perfect mix with the stones in this necklace, especially with the yellow gold accents. Wearing this piece is a way to highlight the yellow color as well as highlight the necklace without taking away from either one of them." —Elle Jewelry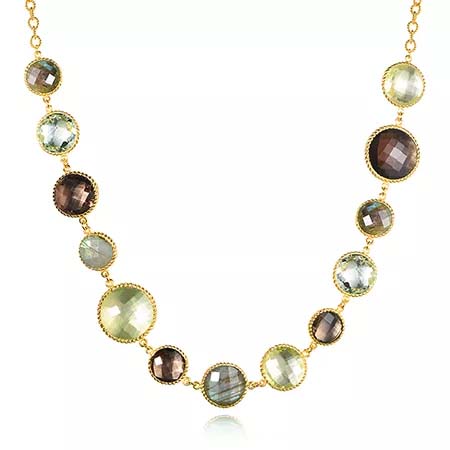 Piara necklace in 18k gold vermeil with 50 cts. t.w. amethyst, smoky quartz, and labradorite, $500
3. Make a Primrose Yellow outfit even more playful with a multicolor jewel.
"It's a fun multicolor ring, so it can go with anything, but the pinks and yellows go especially well with the Pantone color Primrose Yellow." —Jye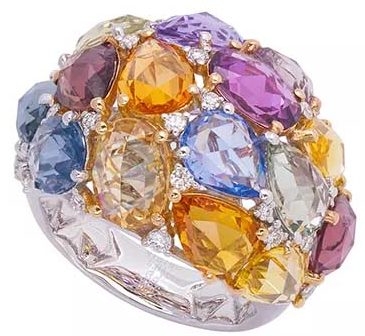 Cocktail ring in 18k gold with 15.64 cts. t.w. multicolor rose-cut sapphires and 0.42 ct. t.w. round-shape diamonds, $8,650
4. Primrose Yellow is a Pantone shade inspired by the primrose flower. Double up on the happy shade by wearing a yellow gold jewel.
"The flowers on this ring resemble the Primrose flower." —Gabriel & Co.
Ring in 14k gold with 0.07 ct. t.w. diamonds, $375
5. Color-block Primrose Yellow with timeless blue—the world's favorite color.
"The deep Navy Blue color of these stones would color-block beautifully with the bright yellow of Primrose Yellow. Color-blocking yellow and blue is a combination that has never gone out of style." —Jude Frances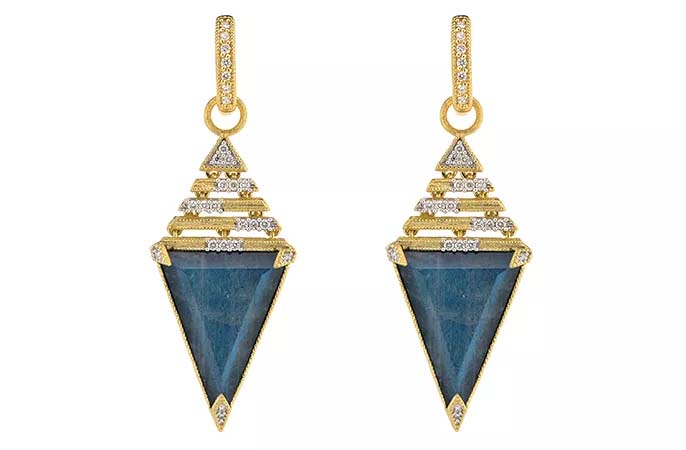 Lisse Large Geometric inverted trillion earrings in 18k gold with 9.2 cts. t.w. labradorite and onyx doublets and 0.25 ct. t.w. diamonds, $2,280
The Style 360 blog is your editorial source for the newest jewelry, trends, fashion, market analysis, trade show insights, designers profiles, and more.
News Source : JCKOnline.com