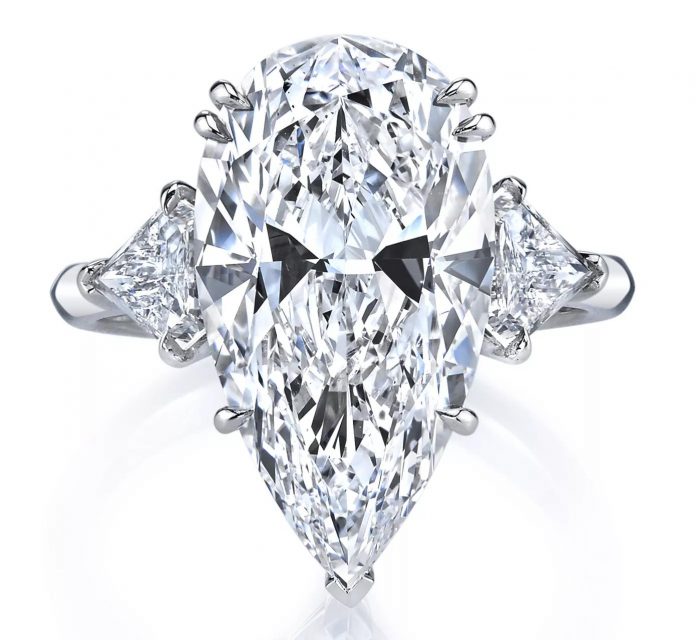 21 options for the new year
This isn't a post about any particular bridal trend, though some of the pieces that follow may fit within those parameters. What it isis a range of different styles for every taste and budget, hopefully spotlighting a brand or style you may not already be familiar with. Simply put: You're about to need some new engagement rings. Whether you experience a holiday rush or not, a showcase refresh for the new year is most certainly in order, isn't it? Maybe it's for that couple that, though they've been in the store six times and counting, can't seem to quite nail down the perfect ring. Maybe it's to try out that new style on your customers that you've been shy about stocking. Or, maybe, you really will spend the holiday season catering to lovestruck shoppers, and your cases are soon to be looking a little bare (go get 'em!). Whatever the reason, here are 21 options, each one of them exquisite, for you to consider.
Engagement ring in platinum with 10.34 ct. center and pink diamond accents, $691,600; Jack Kelége
Emerald halo engagement ring in 14k white gold with 0.58 ct. t.w. diamonds, $2,380; Sylvie Collection
Engagement ring in 18k white and yellow gold with a 1.86 ct. fancy yellow diamond and 1.5 cts. t.w. pavé diamonds, $90,000; VTse
Two-tone twist engagement ring in 14k white and rose gold with 1 ct. t.w. diamonds, $2,600; Ashi Diamonds
Deep Currents bridal collection in 18k yellow gold with 0.15 ct. t.w. diamonds (in engagement ring mounting) and 0.11 ct. t.w. diamonds (in wedding band), $2,400 and $2,100, respectively; Audrius Krulis
La Cathédrale collection engagement ring in platinum with glacier blue and white diamonds, price on request; Claude Thibaudeau
Pear-shape engagement ring mounting in 14k rose gold with 0.18 ct. t.w. diamonds, $1,180; Coast Diamond
Victorian engagement ring in 14k white gold with 0.13 ct. t.w. diamonds, $775; Gabriel & Co.
Engagement ring in platinum with a 7.03 ct. pear-shape diamond and 0.91 ct. t.w. shield-cut diamonds, price on request; Joshua J. Fine Jewelry
Three-stone ring in 18k white and yellow gold with 3.02 cts. t.w. fancy yellow diamonds and 0.45 ct. t.w. round diamonds, price on request; Kattan
Le Vian Couture ring in 18k Vanilla Gold and Honey Gold with 2.95 cts. t.w. Vanilla Diamonds and Sunny Yellow Diamonds, $58,247; Le Vian
Lyria Leaf engagement ring in 18k white gold with 0.13 ct. t.w. diamonds, $1,550; Parade Design
Entwine collection bridal set in white gold with diamonds, $912–$945; Ron Rosen
New York Dreams collection engagement ring in 18k white gold with 0.75 ct. oval center, 0.5 ct. t.w. oval side, and 0.25 ct. t.w. round accent diamonds, $8,348; SES Creations
Forever collection engagement ring in 14k white and rose gold with 0.61 ct. t.w. diamonds, $1,700; Shy Creation
Vintage Explorer collection engagement ring in platinum with 0.19 ct. t.w. diamonds, $1,980; Simon G
Engagement ring in 14k white gold with 0.24 ct. t.w. diamonds, price on request; Supreme Jewelry
Silhouette collection engagement ring mounting in 14k white gold with diamonds, $5,700; Uneek Fine Jewelry
Engagement ring in 18k white and yellow gold with a 4.07 ct. fancy yellow cushion-cut diamond and 0.79 ct. t.w. diamonds, price on request; William Levine
Engagement ring in 18k white and rose gold with a 4.59 ct. radiant diamond and 2.1 cts. t.w. ideal-cut diamonds, $14,362 (center stone not included); Yael Designs
Engagement ring mounting in 18k white gold with 0.55 ct. t.w. diamonds, $3,720; Elma Gil
News Source : jckonline.com