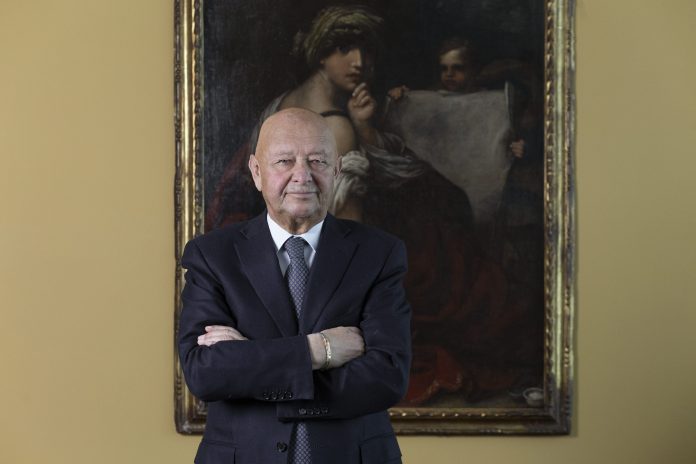 Olive trees and mirrors will welcome companies and visitors to the exhibition concept designed in the name of peace by creative director Beppe Angiolini
Lorenzo Cagnoni, President of IEG: Arezzo is strategic for the sector's recovery
Compact support from the institutions expressed by Mayor of Arezzo, Alessandro Ghinelli, and Chamber of Commerce President, Massimo Guasconi
Arezzo (Italy), 13th April 2022 – "Life is a precious art. A jewel between past and present, between cultures near and far, that creates innovation and beauty. Arrangements of light, splendour and peace." This is how Beppe Angiolini, artistic director of Oroarezzo, sums up the highly emotional and striking scenic concept of the set-up that will welcome exhibitors and operators with olive trees and mirrors at Arezzo Fiere e Congressi for the return of the event dedicated to Italian and international gold and jewellery excellence, organised by IEG – Italian Exhibition Group from 7th to 10th May.
A fundamental moment of encounter and debate between leading national and international players in #artofmanufacturing, which gathers together the supply chain, especially the initial part, from jewellery to cash and carry, without forgetting an area for technological innovation, already highlighted at the entrance to the Expo Centre, which will be reopening its doors to the sector's business.
IN THE WORDS OF IEG PRESIDENT LORENZO CAGNONI, AREZZO IS CRUCIAL FOR THE SECTOR'S RECOVERY
"After three years since the last edition," Lorenzo Cagnoni, President of Italian Exhibition Group, points out " preparations for Oroarezzo can only be accompanied by the satisfaction of finally finding ourselves in favourable conditions to ensure holding such a decisive event for the gold and jewellery sector. It is proof of the shared commitment and increasingly strong dialogue with Arezzo's key players in the industry, institutions and trade associations. Continuous collaboration with the stakeholders, in a district that is essential to the success of Italian-made jewellery throughout the world, that have always been at IEG's side in the numerous initiatives with which we have kept the spotlight on this area even during the pandemic – from the Premiere Digital Edition in 2020 to We Are Jewellery and the First Summit of Italian Jewellery last year, as well as international events like Vicenzaoro and JGT Dubai – has proved to be strategic in the overall recovery of the entire sector."
THE CITY OF AREZZO AND GOLD, AN INDISSOLUBLE AND IDENTIFYING BOND
According to the Mayor of Arezzo, Alessandro Ghinelli, "after three long years, Oroarezzo will be back in physical form and will do so at an important historic moment for Arezzo's entire gold and jewellery sector. Despite the difficulties, our district has managed to contain the negative effects of the pandemic by focusing on innovation, product variety and quality and maintaining its leadership in the gold district in terms of number of companies and employees. The Russian-Ukrainian war is again bringing uncertainty and concern among operators, but I strongly believe that this trade show is a confident sign of new beginnings and Arezzo is ready to welcome the best of "made in Italy" gold and jewellery once again, with buyers from all over the world interested in doing business with the sector's major companies. The bond between our land and gold is indissoluble and identity-driven, a vehicle for promotion and affirmation which, in recent years, has been flanked by the development of its tourist and cultural vocation. The trade show is a fundamental appointment that has a truly important impact in economic and visibility terms: our entrepreneurs will not be found unprepared, there will certainly be no lack of enthusiasm."
Massimo Guasconi, President of the Arezzo Siena Chamber of Commerce, echoes his words: " Oroarezzo is the most important promotional event for the gold district in Italy and, after two years of forced absence, it is about to return for operators and buyers, confirming its status as a unique showcase for the best jewellery manufacture in Arezzo and Italy. High quality products, the result of a heritage of tradition, technical skill, style and design that have enabled our companies, even in such a difficult period, to earn appreciation and enjoy sales success on international markets. A long-awaited return, which the Chamber of Commerce, partner of the event since its very beginning, can't help but welcome with enormous satisfaction."
OROAREZZO'S MESSAGE OF PEACE: OLIVE TREES AND MIRRORS TO WELCOME VISITORS
"When you create a setting, an installation, an entrance, an incipit, you want to communicate a certain atmosphere for those you are welcoming. A mood that introduces without completely revealing the reality they are about to encounter," explains Beppe Angiolini . "Olives are the trees with most meaning that nature provides in Italy, particularly in Tuscany. They are a symbol of peace, and God knows how topical that is at the moment, as well as productivity, with oil an essential element of our daily lives. They symbolize longevity, hard work and the torments of human life, represented by the thousands of knots and contortions that we often see on the trees, each one different from the other, just like human beings. The mirrors only show all this as an extremely current recall, between reality and virtual image as well as debate and empathy. The world of mirrors reflects the world of men who communicate for a magnetic and enlightened future. Light represents vision, awareness and wisdom. The olive trees are us in the mirror." A universal message for an event that aims to embrace the entire city of Arezzo and is – continues Angiolini – "an extraordinary opportunity, not only for the gold district and manufacturing, but also for the retailers and its artistic and cultural excellence. The invitation is for every soul in the city to be a part of Oroarezzo, together with IEG and the institutions."
FOCUS ON ITALIAN EXHIBITION GROUP
Italian Exhibition Group S.p.A., a joint stock company listed on Euronext Milan, a regulated market organised and managed by Borsa Italiana S.p.A., has, with its facilities in Rimini and Vicenza, achieved national leadership over the years in the organisation of trade shows and conferences. The development of activities abroad – also through joint-ventures with global or local organisers, in the United States, United Arab Emirates, China, Mexico, Brazil and India, for example – now sees the company positioned among the top European operators in the sector.
PRESS CONTACT IEG
Elisabetta Vitali, head of corporate communication and media relation; Marco Forcellini, press office manager; Michela Moneta, press office coordinator; Luca Paganin, press office specialist