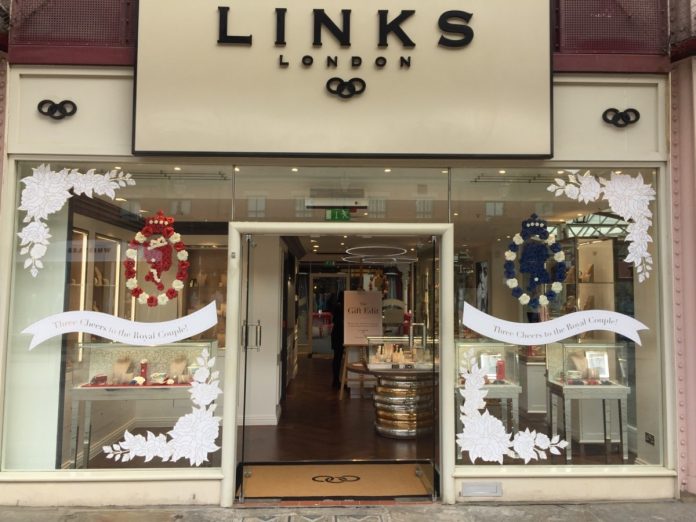 Links of London has married its British roots with the upcoming royal wedding to celebrate the special day as Meghan Markle prepares to walk down the aisle.
To celebrate the big day, Links of London has transformed its Kings Road, Regent Street and newly refurbished Windsor boutiques.
Nodding to its British heritage, in-house designed displays take inspiration from traditional cameos and the romance of the occasion, with the Union Jack re-imagined with paper roses, wedding tea sets placed by the jewellery, and stickers saying 'three cheersto the Royal Couple'.
This feeds into the brand's ongoing wedding campaign – highlighting Links of London as an ideal location to select wedding gifts.
During the royal wedding weekend, from Friday-Sunday, Links of London will have a photobooth in store with branded and dated photos to mark the event.
Hundreds of thousands of people are expected to descend upon Windsor this Saturday, with reports suggesting people may camp out from Wednesday, to catch a glimpse of the newly wed couple, with the historic town's jewellery retailers joining in the celebration.
Links of London's Windsor store is located by the station, where 1,800 people are expected to pull in on trains every hour.
News Source : professionaljeweller.com