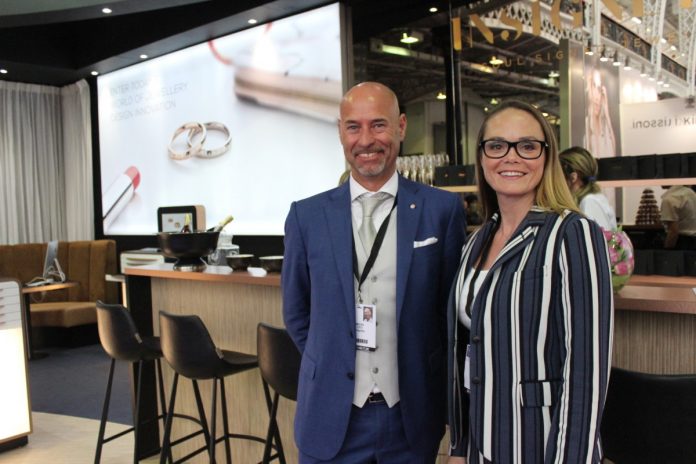 Luxury jewellery brand Insignety enjoyed a successful launch into the UK market.
The brand used trade show International Jewellery London to debut in the UK, following the launch of Insignety earlier on in the year at the Inhorgenta fair in Munich.
Insignety, which offers retailers an end-to-end in-store design solution and high quality products, had an amazing response from the UK jewellery industry.
Not only did the brand scoop the Exhibitor of the Year award at the show, but it also welcomed more retailers to the stand than it targeted.
UK sales and marketing manager, Amber Saunders, comments: "We are so overwhelmed by the amazing response to the UK brand launch of Insignety at IJL. We were all quietly confident that it would go well and that the brand and concept was extremely suited to the UK. As a revolutionary concept that is unique in the market place, we thought that retailers would be impressed, however, we never anticipated just how strong the interest was going to be."
She continues: "All of the customers we had identified before the show as potential partners came onto our stand and had demonstrations of the concept and even more came over that hadn't targeted. I can honestly say that there wasn't a single retailer who wasn't impressed by what they saw and that I feel is due to the eight years of research and development led by our founder and CEO, Mark Bos. His passion, commitment and energy have been the driving force in getting Insignety to where it is today….and this is just the beginning."
Insignety made a strategic decision prior to the show not to sign any retailers up to the brand during IJL but instead, analyse the interest after the show and look at who would be the best long-term partners to work with.
"We are not looking for a quick fix to flood the market with our design consoles," Saunders explains. "We recognise the need to work closely with our retail partners, building a relationship that will work for both parties long into the future. We are now in the lengthy process of working through all of the interest we have received so far, making contact with everyone who took the time to visit us."
Insignety is a new and unique brand within the affordable luxury segment of the jewellery market.
In a snap shot, Insignety offers customers the ability to design one-of-a-kind jewellery pieces together with the jeweller, through revolutionary design solutions. In just four easy steps, retailers can create striking personalised jewellery with their customers – in real time using a cloud-based design tool.
News Source:professionaljeweller